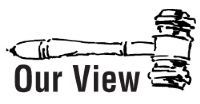 Newly confirmed Supreme Court Justice Brett Kavanaugh isn't the only candidate for a judgeship to have his reputation smeared by his political opponents.
Laninya Cason, Republican candidate for the St. Clair County circuit judgeship left vacant by the death last year of Robert LeChien, claims she's been falsely accused, too – in a hit piece in the Belleville News-Democrat that was shared on social media by her Democrat opponent, Chris Kolker.
Cason ran against LeChien in 2016 and nearly unseated him. If LeChien had stood for retention instead, as state law prescribes for sitting judges, he might have failed to attain the 60 percent approval rate needed to keep his seat on the bench.
Cason served as a St. Clair County judge for 12 years and currently works for the Illinois Department of Children and Family Services as a regional supervising counsel.
The News-Democrat article raises questions about a child custody case that came before Judge Cason in 2010. The case involved a young boy living with a guardian who was returned to the custody of his mother and was murdered, more than three years later, by the mother's new husband, a convicted felon.
The article insinuates that Cason is somehow responsible for the child's death several years later, an insinuation Kolker apparently endorses.
Cason says she is trying to get the article corrected, but worries that the article will hurt her chances in the upcoming election.
"Material omissions were purposely made," she said, noting that it was not her but another St. Clair County judge in 2013 who ordered the child to be returned to the custody of his mother and stepfather. Cason said she was working the traffic docket in East St. Louis at the time.
Kolker links to the article on his Facebook page, with this snide comment: "I cannot imagine why one would make a baby live with a murderer after being warned it would be unsafe."
We can't imagine why anyone would vote for a judicial candidate who makes such injudicious comments.