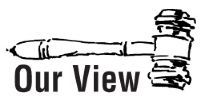 Some judges are irreplaceable. It might be their vast knowledge of the law, their many years on the bench, their Solomonic wisdom, the unique rhetorical flair that made their opinions a delight to read even for those who disagreed with them, or some other distinctive attribute.
Or, it might be their status as Democrat judges in a Democrat-dominated circuit court who died or retired before the end of their terms – and whose replacements could be named by the chief justice of the Illinois State Supreme Court, who is a Republican.
Which means a Democrat judge might be replaced by a Republican judge.
A Republican judge might not fit in with all those Democrat judges. He might not understand or be willing to go along with ordering cases sealed for no apparent reason, issuing unsupportable rulings destined to be overturned, approving million-dollar settlements for friends, gaming election laws, using illegal drugs, going to jail for using illegal drugs, conducting bogus investigations of judges using illegal drugs, and other such everyday, ordinary, move-along-nothing-to-see-here-type occurrences.
Under current circumstances, the only way to keep a good-old-boy Democrat judge from being replaced by a Republican judge would be for the chief judge of the circuit to refrain from asking the Supreme Court to name a replacement.
Democrat St. Clair County Circuit Court Judge Robert LeChien died last August, but has yet to be replaced. That's due to statewide budgetary constraints, says Democrat Chief Circuit Judge Andrew Gleeson.
"The reality is that it has nothing to do with political issues," Gleeson says. "There is a moratorium on the Supreme Court filling spots."
On this point, Gleeson, as often happens, is overruled.
"The number of authorized judicial positions, the amount judges are paid, and the annual raises judges are given are all dictated by law and cannot be changed by the court," says Illinois Supreme Court Chief Justice Lloyd Karmeier.
A year after LeChien's death, Gleeson has yet to ask the Supreme Court to start the process for replacement, but he claims it's not political.
And fish can't swim.