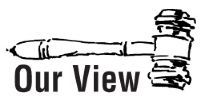 It's an election year, and voters in St. Clair, Monroe, Perry, Randolph and Washington counties should consider what just happened in their courthouse in People v. Ronald Duebbert.
They should also demand to know all the facts beginning with why the Illinois Appellate Prosecutor's Office continued to pursue felony criminal sexual abuse and intimidation charges after receiving information that the accuser had embellished his account of events.
When prosecutor Lorinda Lamken received a text with that information from the accuser's lawyer, Alex Enyart of Belleville, what did she do with it? Who did she tell? Did she interview the accuser? The text message was sent last October. Why was it not disclosed until May? What are all the details behind the vigorous inquiry that made the State so determined to go forward?
Who were the key witnesses? For the prosecution, it was "victim" Carlos Rodriguez, who we know embellished, and Wayne Scott who mysteriously resurfaced shortly before the 2016 election in which Duebbert, a Republican, defeated then chief judge John Baricevic, a Democrat, to say he was inappropriately touched by Duebbert some 18 years prior. Charges were never filed against Duebbert in 1999, but prosecutors in 2018 apparently reasoned that Wayne Scott's version of events was compelling enough to use their power and your tax dollars to pursue felony charges against Duebbert in St. Clair County.
How much did that cost?
For the defense, Maria Duebbert, who worked for her brother as office manager, was prepared to testify that Rodriguez was not in their office on the date he alleged that Duebbert offered to reduce his legal fee in exchange for a sexual act. She also said she had written and electronic evidence that would corroborate her statements. That sounds like reasonable doubt.
It's been 18 months since the election, yet Duebbert has not been allowed to preside over a docket because Duebbert allowed David Fields, convicted in 2015 of aggravated battery, to temporarily live in his house when he was released on parole shortly before the election.
The case for keeping Duebbert off the bench and on administrative duties was bolstered when David Fields became the number one suspect in the murder of Carl Silas on Dec. 30, 2016. Fields has been sitting in jail since then and has a trial date July 23.
St. Clair County Chief Judge Andrew Gleeson, who has kept Duebbert off the bench, says he doubts Duebbert's integrity because of statements Duebbert made to Belleville Police in the initial stages of the Silas investigation. But we now know that prosecutors in the case against Fields – also being handled by the Illinois Appellate Prosecutor's Office – have conceded that Duebbert is not relevant to it and cannot be mentioned at trial. They've conceded much more too – for one, their star witness's original version of events doesn't match the facts.
Gleeson says it's up to the Illinois Courts Commission to wrap up an investigation of Duebbert before he would consider allowing him to serve as judge. It's out of his hands, he says. Gleeson also says that Duebbert can apply to the Illinois Supreme Court for an earlier return to the bench but has not done so. Nice blame shifting.
On July 6, after the case was formally dismissed against Duebbert, his attorney, Scott Rosenblum of Clayton said the prosecution was political. "No 12 jurors here or anyone else would have believed Rodriguez."
For now, one question needs to be asked about the prosecution of the case: Was it politically motivated?
Whether Duebbert's decision to allow Fields into his home weeks before the election demonstrated good judgment is a question that voters should ponder when Duebbert's name is on the ballot again.
People cannot expect perfection in the justice system, but they have the right to expect fairness in the most respected branch of government. They should be confident that those holding opposing political views will not face cruel reputation attacks and jailhouse threats.