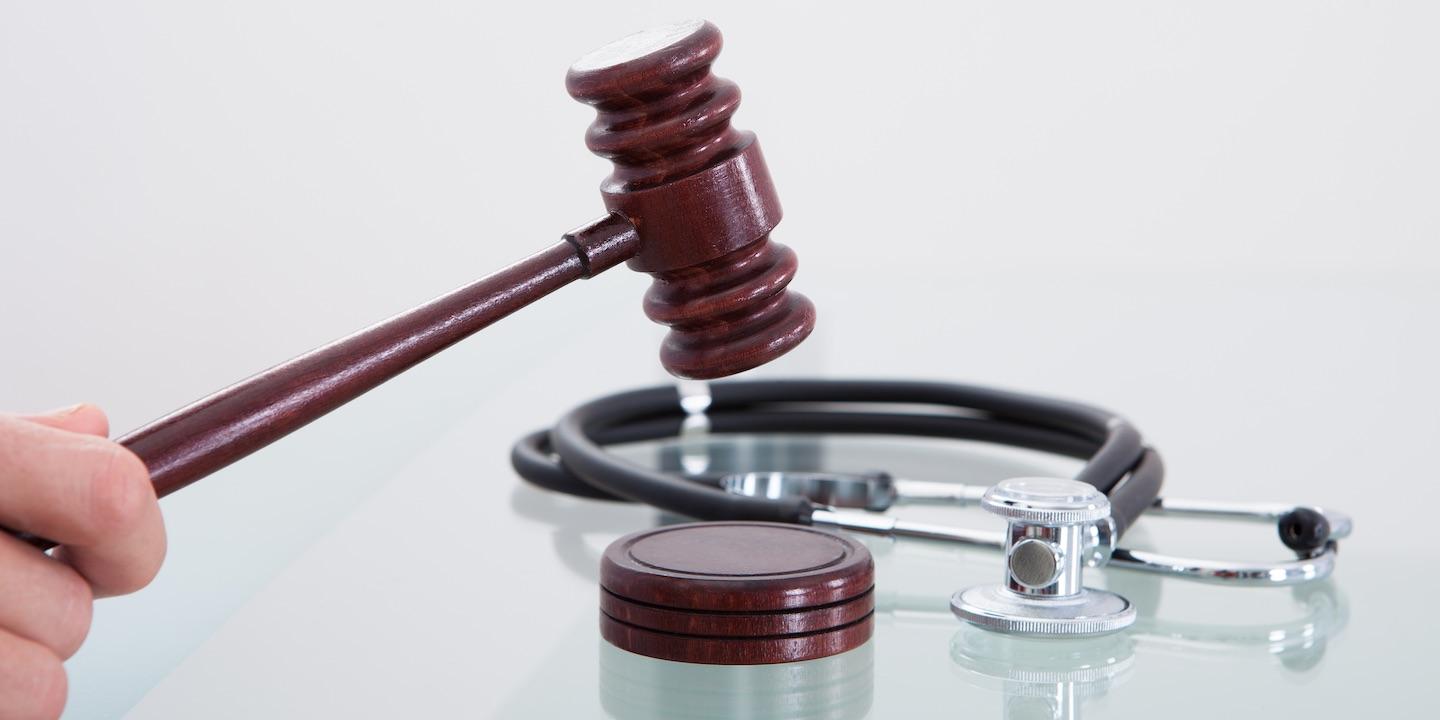 St. Clair County jurors returned a verdict in favor of St. Elizabeth's Hospital and a neurosurgeon who argued that a patient missed the "critical" time period for maximum recovery by waiting roughly three months to see them for his back injury.
Following deliberations Thursday afternoon in Circuit Judge Vincent Lopinot's courtroom, jurors reached a defense verdict in favor of St. Elizabeth's Hospital of the Hospital Sisters of the Third Order of St. Francis and Dr. Joesph Yazdi.
Plaintiff Randy Lampe was represented at trial by James R. Williams of Williams, Caponi & Associates in Belleville.

Burke
Yazdi was represented by Kenneth Burke of Brown & James in Belleville.
St. Elizabeth's Hospital was represented by Donovan Rose Nester in Belleville.
During closing arguments, Williams had asked jurors to award the plaintiff more than $1.27 million.
"This case has been on my shoulders for several years and when we're done today, it's on your shoulders," he said.
Lampe filed his original complaint seven years ago against Dr. Duk Kim, Yazdi and St. Elizabeth's Hospital, which had been incorrectly sued as Southern Illinois Brain & Spine Center.
Kim had been dismissed from the suit prior to trial.
Lampe alleged he injured his back on March 27, 2009, when he attempted to roll a log while working as a tree trimmer.
Kim eventually referred Lampe to Yazdi, a neurosurgeon working with the Southern Illinois Brain & Spine Center.
However, Yazdi didn't see Lampe until roughly three months after the accident occurred.
Yazdi performed a laminotomy, a foraminotomy and a discectomy on the plaintiff's spinal L4 to repair a herniated disc.
However, Lampe alleges the defendants failed to conduct proper testing, which would have determined that he suffered from Cauda Equina Syndrome, and failed to properly diagnose his severe back injury.
He also alleges Yazdi failed to identify the fratibral bodies, removed structures without identifying them and removed substantial bone from his L4 vertebral body, causing significant mechanical instability, the suit states.
Lampe later saw Dr. Donald DeGrange about three weeks after his last visit with Yazdi, who diagnosed him with Cauda Equina Syndrome.
DeGrange performed another back surgery that allowed the plaintiff to regain control of his bladder and bowel movements, among other improvements.
During closing arguments, attorneys for the defendants told jurors that by the time Lampe saw Yazdi, the damage had already been done to his back.
They explained that the critical period for repairing back injuries is the first 72 hours. After the critical time period, there is only so much they can do to.
St. Clair County Circuit Court case number 11-L-257