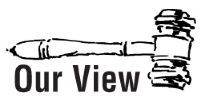 Maybe it happened the way they said, or maybe not. Maybe the plaintiffs are telling the truth, or maybe the defendants.
The truth is hard to discern sometimes. Two diametrically opposed accounts of the same incident may both seem plausible. There may be evidence and testimony lending credence to each.
However, when you get the impression that the jury members may have flipped a coin – and the judge himself concedes that the verdict could have gone either way – it seems a little too emphatic (i.e., not quite accurate) to say that one side prevailed.
In a recent case involving charges of brutality against members of the Mounds Police Department litigated at the Southern District of Illinois, Senior District Judge Phil Gilbert acknowledged that a reasonable jury could find that the defendant officers engaged in excessive force and that the plaintiffs posed no threat and did not resist arrest.
On the other hand, he added, a reasonable jury could also find credible the defendants' depiction of aggressive family members posing a serious threat and warranting more severe use of force.
"Or a reasonable jury could find that the story of excessive force as told by the Ditterlines did not happen at all," Gilbert wrote.
As it happened, the jury in this case, reasonable or not, decided in favor of one of the several plaintiffs, but awarded only $500 in compensatory damages (plus $2,000 in punitive damages).
The jury found that officer Dustin Turska had violated the rights of Terry Ditterline by using excessive force against him, but it rejected Ditterline's claim against officer Lyle Womack, as well as the claims made by Ditterline's wife and sons against Turska, Womack, and officer Kitisha Ray.
"Because Ditterline was awarded both compensatory and punitive damages by the jury, he is clearly the prevailing party," argued Ditterline's attorney, former District Court Judge Patrick Murphy, who is seeking more than $155,000 in fees for him and his partner for their efforts in securing the $2,500 judgment.
It looks to us like the only person prevailing here, or attempting to prevail, is Murphy.