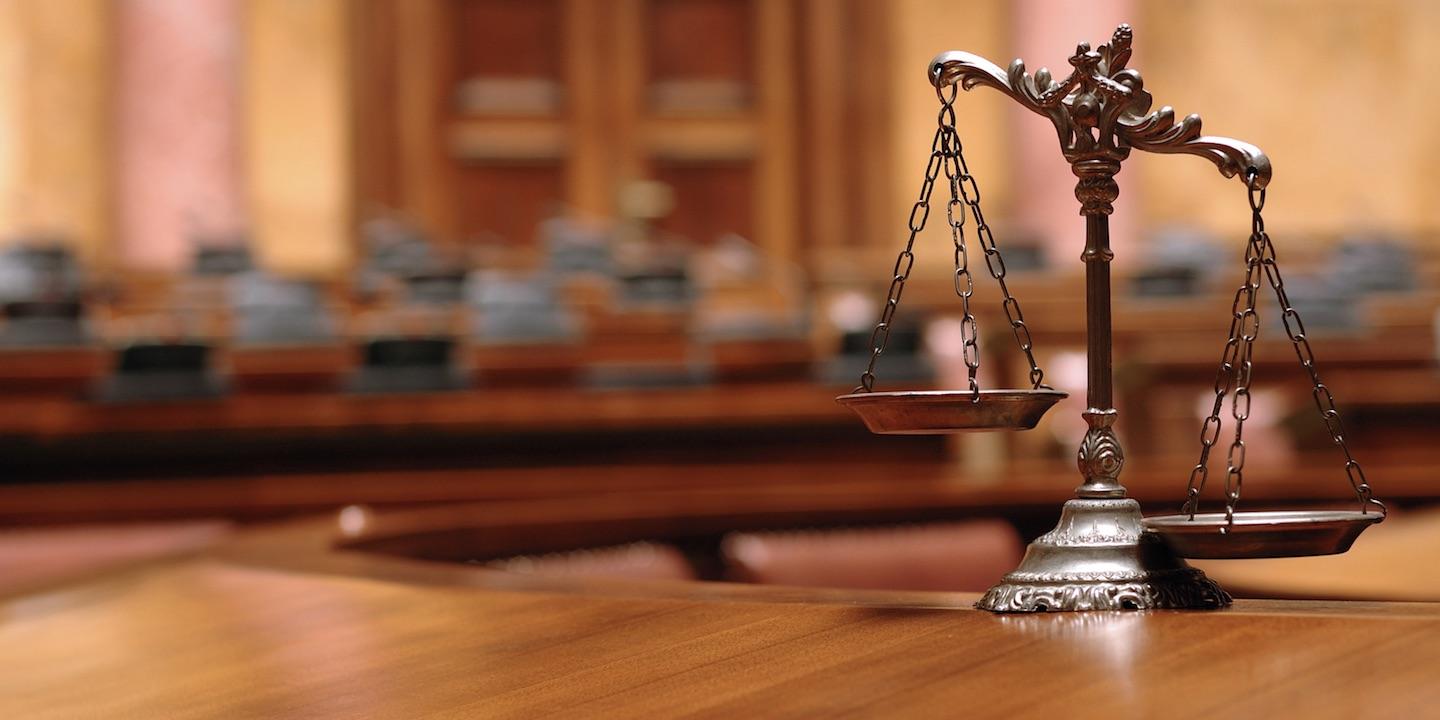 At a hearing to determine whether a conflict of interest exists in regards to a raid at the county administration building four months ago, Madison County State's Attorney Tom Gibbons said the claim is premature and he would appoint civil counsel for county officials in the event of an indictment.
"It's never too premature to avoid a conflict of interest," responded Alton attorney Amy Sholar.
She recommended simply disqualifying the state's attorney's office altogether.

Gibbons
Associate Judge Jerry Crisel of the Second Judicial Circuit presided over the May 10 hearing. He was assigned to preside over the question of a conflict of interest on Feb. 28 after Madison County Chief Judge David Hylla requested a visiting judge be assigned to the case.
Gibbons was present with assistant state's attorney Jeff Ezra.
Madison County administrator Doug Hulme and IT director Rob Dorman were present with attorney G. Edward Moorman of Alton.
Former county employee and current executive director of the Metro East Sanitary District Stephen Adler was present with Sholar.
County Board chairman Kurt Prenzler was unable to attend the hearing.
Crisel heard arguments on all pending motions, including the county officials' motions for an order finding a conflict of interest, Gibbons' motion to strike or dismiss the petitioners' motions and Gibbons' motion to stay all discovery.
Gibbons argued that the question of a conflict of interest is premature as there have been no indictments in the case, which involves a high profile, mid-day raid on Jan. 10. While Prenzler's office was not subject to the raid, computers and other records were taken from the offices of Hulme, Dorman and the county's former FOIA officer Cynthia Ellis.
"There can be no conflict," Gibbons said.
Gibbons started by arguing that the county officials alleged no evidence that the state's attorney's office is exercising authority over the search warrants or investigation. He added that search warrants are not requested or issued by the state's attorney's office. He said law enforcement agencies have the proper authority to seek search warrants and a judge would grant or deny the requests.
Crisel asked if it is standard procedure in Madison County for state's attorney's offices to have nothing to do with search warrants.
Gibbons said his office works with law enforcement offices on things such as wording in preparing a search warrant.
He further explained that the state's attorney's office would appear before a grand jury to facilitate the process, but does not cause subpoenas to be issued.
Crisel asked if an assistant state's attorney presented evidence to the grand jury for the subpoenas in this case.
Gibbons said it is likely, but added that his office would only begin prosecution in the event an indictment is issued or if a law enforcement officer comes to him with evidence information.
Gibbons also said Hulme, Prenzler and Dorman did not contact him at any time seeking outside counsel relating to the investigation.
"I represent Mr. Dorman, Mr. Prenzler, and Mr. Hulme," Gibbons said.
He added that he has purposely distanced himself from the investigation, so he does not know what is going on. He said he didn't want to know anything relating to the investigation or search warrants and didn't want his office in the middle of it.
Crisel said Gibbons couldn't represent the county officials criminally anyway.
Gibbons responded by saying that if a grand jury does issue an indictment or a law enforcement officer comes to his office with evidence seeking felony information, then a conflict would exist.
Moorman responded saying Gibbons has a duty to prosecute crimes on one hand and a duty to represent county officials on the other.
He argued that his pleading is different than what Gibbons' says it is.
"What we're seeking is not what he says we're seeking," Moorman said.
Moorman said Gibbons' arguments contain a number of factual disputes, and the petitioners seek to explore the factual basis of a conflict of interest.
"We want a hearing to determine whether he has a conflict of interest," Moorman said.
For example, Moorman wants a hearing with discovery, testimony and cross examination to determine the factual allegation that Gibbons' office had nothing to do with the search warrants.
"That factual allegation has not been subject to cross examination," he said.
He added that their motion regarding a conflict of interest should not be dismissed without exploration and cross examination.
Moorman said that according to an unspecified newspaper article, Gibbons called a press conference when he organized a task force, suggesting his involvement in the investigation.
Gibbons denied ever holding a press conference, saying he instead sent out a press release.
Gibbons said a number of unnamed press outlets provided incorrect information in their coverage of the Jan. 10 raid. He said they were incorrectly reporting that Madison County Sheriff John Lakin was conducting the investigation.
Gibbons said he took it upon himself to write a press release to correct the misinformation.
He explained that his office received evidence of possible illegal conduct by unnamed county officials in late 2017. In an effort to keep his office out of the investigation, he called for the formation of a multi-jurisdictional special investigative task force, which includes law enforcement officers from the Alton, Edwardsville and Collinsville police departments, as well as officers from the Illinois State Police and the Madison County sheriff's department.
"I needed someone to do something with this information I received," he said.
He added that because the evidence of possible illegal conduct involved electronic devices, each of the agencies provided individuals who are assigned to the FBI's cyber task force.
Gibbons said he also chose to provide a press release after an unnamed news outlet implicated that a political interest existed, reporting that Lakin, a Democrat, was investigating Republican county officials.
He said the investigation has nothing to do with politics despite the fact that one of the agencies is led by a Democrat.
Gibbons also argued that Moorman's request for an evidentiary hearing is unnecessary, as only judges may issue search warrants and grand juries act independently.
He added that in the event of an indictment, the state's attorney's office would have the obligation to prosecute. With the exception of Adler's case, he said he would petition the court to provide civil counsel for the petitioners.
Crisel asked what the harm would be in appointing a special prosecutor now rather than later.
"What would it do?" Gibbons asked. "What would be the point? There's no prosecution."
Crisel said appointing a special prosecutor would remove any suggestion of any impropriety.
He added that the Madison County judges recused themselves from the case to avoid conflicts of interest. He said he isn't sure why they recused themselves, "but obviously they have reasons."
Gibbons responded by reiterating that he would take over the role of prosecutor if a grand jury seeks indictment.
"So you'd elect to stay on the prosecution and have civil counsel appointed?" Crisel asked.
"I guess I would do one or the other," Gibbons said. "I like being a prosecutor better than anything else."
As for Adler's claims, Gibbons said his case is completely different in nature because he is not a current county employee.
"He has no standing here," Gibbons said. "I'm not required to provide counsel to him as state's attorney. So therefore, his complaint fails. There can be no conflict."
Gibbons said he reached out to Hulme, asking about Adler's claims that he is an employee of Madison County. He said Hulme provided him with information showing that Adler was placed on a leave of absence on May 22,2017, after he was appointed director of the Metro East Sanitary District, or MESD. Adler turned in his resignation with the county on Nov. 23, 2017.
Gibbons said the MESD is separate from Madison County and Madison County government.
Sholar responded by saying the MESD is formed and commissioners are appointed by the Madison County Board.
She further argued that anything under investigation would involve Adler's time as an employee with Madison County. She said the search warrants specifically name Adler and his computer, which would have involved his employment with the county.
Sholar also joined Moorman's conclusion that this is a factual dispute.
She agreed with Gibbons' argument that some of the issues are premature, such as the request for the county to pay legal fees.
However, she said it is never too early to avoid a conflict of interest.
She said Gibbons himself said that if an indictment is handed down, then a conflict would exist.
"There are a million and one hypothetical situations where there could be a conflict," Sholar said.
She said that a special prosecutor needs to be appointed to avoid a conflict.
"Why not do it?" Sholar asked. "There is no harm in appointing a special prosecutor."
She added that there is "great harm" in allowing a conflict of interest to exist.
Crisel asked who she would want appointed as a special prosecutor if that request were to be granted.
"Anyone outside the county would be appropriate," Sholar said.
Gibbons filed a lawsuit against the MESD on April 30 for creating a special tax district to fund repairs along the Landsdowne drainage channel and the Cahokia canal, which Gibbons says exceeded the MESD's authority.
Crisel took the arguments under advisement and said he would try to file an order within the next 30 days.
"Well I appreciate it," he said. "I tell you, this is very interesting. All three of you made compelling arguments."
Ellis has not argued that a conflict of interest exists and was not present at the hearing.