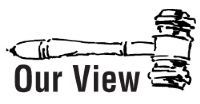 When people trip and fall and hurt themselves, they deserve sympathy. If someone is responsible for the accident, they may deserve compensation as well.
If, on the other hand, the trippers and fallers are incontestably drunk or wearing clown shoes, responsibility would be mitigated by their behavior.
What makes a hazard hazardous? Does it have to be hazardous for everyone, or just some people, or just one person? How about one person, one time?
Margaret Lorsbach sued the Jerseyville Hardees in District Court two years after she tripped on a two-inch curb going into the restaurant.
Apparently no other patrons have had trouble negotiating that curb. Lorsbach never had any trouble negotiating it either – on the multiple occasions she and her husband had dined at Hardees.
Did the Lorsbachs contribute in any way to her accident? For one thing, despite having a handicapped placard and license plate, they never on numerous visits parked in the handicapped parking space reserved for customers who require obstacle-free access to the restaurant.
When she failed to mount the curb successfully, Margaret was carrying a cane in one hand and an oxygen pack in the other.
"The evidence, taken as a whole, suggests that a reasonable customer of ordinary perception, intelligence, and judgment would perceive the existence of the [curb] and the need to deal with it by stepping up to the sidewalk. As such, any hazard posed by the curb is open and obvious," concluded District Judge Staci Yandle, granting summary judgment to Hardees.
"Significantly, there is no evidence of any changed condition or foreign substance that would have rendered the curb any more hazardous or less obvious than the previous 19 or more times Plaintiff had successfully negotiated the step up."
Yandle's logic was lost on Lorsbach. She's appealing the decision.