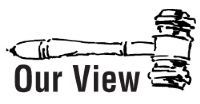 We're fortunate to live in a country where we get to choose our own representatives. But if the slate we get to choose from is subject to vetting by political operatives, maybe we're not so fortunate.
There are reasonable requirements that potential candidates must meet – such as residency and acquisition of a specified number of signatures in support of one's candidacy from registered voters in that district – and any legitimate doubt about the fulfillment of those requirements deserves to be investigated.
The process of investigating a would-be candidate's alleged failure to meet those requirements, however, must be fair and impartial, and observably so. Otherwise, voters' options are unfairly restricted and trust in the system is eroded.
A case in point: This past January, the Illinois State Board of Elections denied an objection that would have guaranteed the nomination of St. Clair County State's Attorney Brendan Kelly as Democratic candidate for Congress, ruling that his opponent, David Bequette of Columbia, could run against him in the upcoming 12th District primary.
That was a just and confidence-inspiring decision. Unfortunately, it followed the board's original, opposite and questionable decision to uphold the objection, which decision was challenged because of glaring irregularities in the initial review.
Lynda Lee Sparks-Frankly of Percy objected to Bequette's nominating petitions last December, alleging a pattern of fraud and false swearing. Her lawyer, Belleville city attorney Brian Flynn, called for a finding that Bequette's petitions were illegal and void in their entirety.
The first review, subsequently acknowledged to have been hasty and somewhat subjective, found Bequette 13 signatures short of the minimum required. A second found him five signatures above.
Flynn subpoenaed two East St. Louis residents who'd circulated petitions for Bequette, compelling them to appear at a hearing at which he tried, unsuccessfully, to browbeat them into admitting that they'd padded their petitions.
Honest or not, the effort to bump Bequette from the ballot was ultimately unnecessary, as Kelly won the nomination with 81 percent of the Democrat vote.