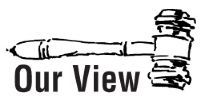 Last Friday, in a move designed to chip away at our bloated state budget by streamlining government operations and eliminating unnecessary expenditures, Gov. Bruce Rauner signed an executive order abolishing 19 government bodies that have been inactive for five years or more.
There are 600-plus such boards, commissions, and programs in Illinois, and Rauner's long-term plan is to eliminate at least 100 of them.
The entities targeted have been dormant for five years or more, but could the governor's ax fall on something worth keeping?
One of the first 19 to go, for instance, is a program called "Sorry Works!" that was authorized 13 years ago, but never implemented.
"Sorry Works!" was developed by Edwardsville PR man Doug Wojcieszak, ostensibly to address the medical malpractice liability crisis. His idea was for doctors and hospitals to take a customer satisfaction approach to patients, apologize when something goes wrong, and make amends.
Of course, an apology can be construed as an admission of fault (and often is), which is why doctors and hospitals in our litigious age are loath to say they're sorry, even if they are.
It's also worth noting that Wojcieszak's family successfully sued a hospital and doctors for malpractice after the death of a brother.
Sincere or not, Wojcieszak can feel free to promote "Sorry Works!" on his own dime and time, but taxpayers in a state nearing insolvency won't subsidize personal projects.
We're glad Gov. Rauner is eliminating this and other boondoggles, dormant or not, and hope he'll continue to root out waste.
In the meantime, if Wojcieszak's upset at the governor's decision to cancel a program that never should have been authorized, Rauner can just say he's sorry.