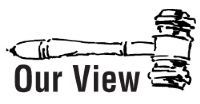 What could be more natural – at least, in St. Clair County – than a flurry of class action lawsuits claiming that some "all natural" products are not as "natural" as advertised, that consumers of said products have been cheated, and that they and their attorneys deserve to be compensated for the alleged fraud?
Natural or not, that's what's been happening in our suit-happy surroundings for the last three years, with Nelson & Nelson of Belleville, the Armstrong Law Firm of St. Louis, and other litigious trail blazers leading the way.
Twenty one such cases have been filed in St. Clair County so far, one in Madison.
Among the beverages and other liquid products said to be lacking in all-naturalness are Pacific Foods' All Natural Hemp Non-Dairy Beverage, Coco5 sports drinks, Fairlife's Core Power high protein milkshakes, Stubb's Legendary Bar-B-Q Sauce, Kraft Heinz's 100% Natural Kansas City Sweet & Smoky BBQ Sauce, Bella's Wing Sauce, and San-J's White Miso All Natural Instant Soup.
Allegedly less than all-natural edibles include Aldi's Peanut Delight Natural Creamy Peanut Butter Spread, Miss Jones Bakery Co. Confetti Pop Cookie Mix, Cherrybrook Kitchen Gluten Free Yellow Cake Mix, Irene's Bakery and Gourmet Kitchen's Black & White Cookies, 3 Fellers Bakery's Coffee Cake Bars, Grecian Delights Foods' Hand Stretched Naan, and Dancing Deer Baking Co.'s All Natural Gluten Free Oatmeal Raisin Cookies.
Personal care and household products deemed imperfectly pure by persnickety plaintiffs include Andalou Naturals hair care treatments, Method Power Foam Dish Soap and Natural Dishwashing Foam, Earth Friendly Products' household cleaner, Citra Solc soaps and detergents, and Pure Naked Conditioning Shave Cream, Pure Naked Hydrating Body Spritz, and Pure Naked Water-Based Lubricant.
If the FDA ever completes the regulatory proceedings it began three years ago to nail down the meaning of "natural" in product labeling, retailers will have guidelines to follow and lawsuit lovers less opportunity to feign outrage over harmless preservatives, stabilizers, and colorings.
Until then, the scramble to cash in on allegations of unnatural ingredients in all-natural products will remain the norm in St. Clair County.