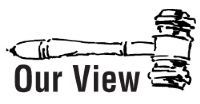 Some fancy restaurants have dress codes, insisting that male patrons wear coats and ties on the premises and sometimes have extras on hand to loan out for those who show up in shirt sleeves.
Even some beachside seafood shacks maintain at least minimal standards: No shirt, no shoes, no service.
Maître d's at either end of this fashion spectrum are accustomed to inappropriately dressed would-be diners attempting to define as broadly as possible the meaning of coat and tie or shirt and shoes. Is a hoodie a coat? Is a life vest a shirt? Not really. Are flip-flops shoes? Maybe. How about beaded barefoot sandals?
If everyone would just be considerate of others and stop looking for loopholes to accommodate boorish behavior, life would be much more pleasant for all. There'd be no need to promulgate common sense guidelines – and no opportunity for power-mad martinets to insist on the letter of the law, rather than its spirit, whenever it pleases them to do so at the expense of someone they disfavor for any reason.
Edwardsville Mayor Hal Patton's bid for a state senate seat would not have been rejected because of a technical error on his nomination papers.
Madison County Board Member Liz Dalton's bid for reelection would not have been challenged – ultimately, unsuccessfully – because she failed to "neatly secure" her nomination forms before handing them over.
Patton, as it happens, is a Republican, Dalton a Democrat. Did party affiliation have any effect on the disparate results of the challenges to their eligibility – Republican Patton rejected, Democrat Dalton affirmed?
Whether it did or didn't, the fact remains that the requirements allegedly violated by both prospective candidates were inconsequential, the persons who ruled on their eligibility have way too much influence on the process, and Illinois voters have been denied the opportunity to vote for a candidate they might have preferred.
There is a need for reform of this arbitrary and unjust process.