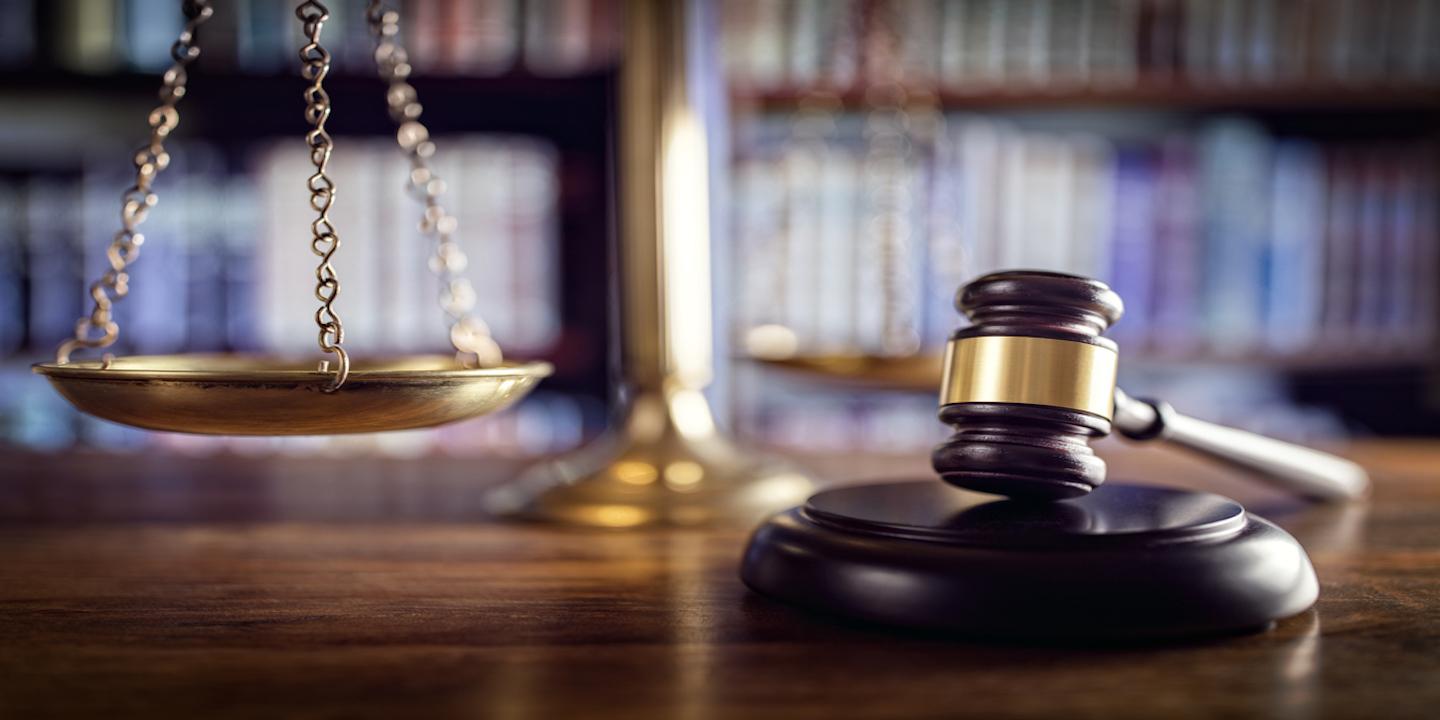 BENTON – Madison County State's Attorney Tom Gibbons swears that former secretary Andrew Kane's union approved his transfer to a forgotten floor of the former Wood River Hospital back in the summer of 2013, but Kane swears that his union objected.
These accounts emerged as Gibbons seeks to dispense with trial Kane's retaliation claims at U.S. district court.
Gibbons signed an affidavit in December, stating that his office discussed a position at the old hospital with the union and the union approved it as suitable.
Kane signed an affidavit on Feb. 23, stating that the union objected to the assignment as clear retaliation for pursuing his rights.
His lawyer, Lee Barron of Alton, attached the affidavit to a brief opposing summary judgment in favor of Gibbons and the county.
"It is a case that must be resolved by a jury," Barron wrote.
Kane started working for Gibbons in 2011, in the felony division.
Peggy Schaake supervised Kane, and office administrator Kevin Hendricks supervised Schaake.
On April 16, 2012, after a disciplinary hearing, Gibbons suspended Kane for five days without pay for text messages he had sent to Hendricks.
On that date Hendricks notified Kane of a second hearing about threats he allegedly made in reaction to notice of a first hearing.
The next day, Kane filed an internal complaint alleging Hendricks committed gender harassment.
Two county officials rejected the complaint, so Kane filed it with the Illinois Department of Human Rights.
Gibbons removed Hendricks from the disciplinary process and directed assistant state's attorney John McGuire to determine the next steps.
On May 2, 2012, McGuire terminated Kane's employment.
McGuire found Kane intimidated fellow employees, used abusive language, and used the county's electronic mail for personal purposes. He found Kane hung a photograph of Disney character Aladdin at the work station of intern Arben Ballazhi in an attempt to belittle his race or ethnicity.
Kane's union, Council 31 of the American Federation of State, County, and Municipal Employees, filed a grievance and took it to arbitration.
Arbitrator Barry Simon of Arlington Heights held a hearing that October, and he ordered Kane's reinstatement in January 2013.
First he summarized the county's position, starting with the Aladdin photo.
"The employer is not persuaded by grievant's explanation that this was good natured fun and a way of getting back at his friend for placing a picture of a gay police officer on assistant state's attorney Chris Hoell's office door," Simon wrote.
"The employer does not consider it relevant that Ballazhi, an intern in the office, engaged in similar conduct.
"The employer says further support for grievant's discharge is the fact that he filed a sexual harassment claim against Kevin Hendricks four days after Hendricks sent him an email scheduling a disciplinary hearing."
Simon wrote that according to the county, Gibbons was convinced that Kane would follow through on blackmail threats he made on April 13, 2012. The county said these allegations caused Gibbons to have McGuire provide an impartial review.
"The employer asserts grievant then retaliated against McGuire by alleging to a local television station that he was being treated differently than McGuire had been when he made a gag videotape spoofing the Chicago Cubs," Simon wrote.
Simon wrote that the county said McGuire used a conference room and didn't make the video with county property or on county time, with the county saying McGuire was counseled for his conduct based upon Gibbons concluding that it was a minor infraction.
Simon's summary of Kane's position noted that with regard to criminal threats, two witnesses testified they heard Kane use the word blackmail.
"The union acknowledges that grievant acted in an immature and unprofessional manner, but suggests his behavior was not particularly unusual," Simon wrote.
But, the union argued that Kane lacked intent to blackmail anyone, he wrote.
"If the employer believed that was grievant's intent, it says it is likely a criminal investigation would have ensued," he wrote.
Simon wrote that the union submitted that no one took his statements as a threat.
He wrote that the union stated that Kane removed the Aladdin picture before Ballazhi saw it.
According to the union, supervisor Schaake was present when Kane hung the picture but did nothing about it, Simon wrote.
The union stated that Schaake did not report the incident until after April 13, "suggesting that this was not considered an event warranting discipline until the employer wanted to have enough to discharge grievant," Simon wrote.
He wrote that all agreed that Kane was visibly upset about the hearing notice, and that Hendricks testified that Kane's reaction didn't surprise him.
"Hendricks thought this would happen that day," Simon wrote. "Nevertheless, there is no indication grievant had ever been disciplined for his prior outbursts."
Simon wrote that Kane's reference to blackmail was vague at best.
He wrote that Gibbons testified that the threat did not appear to apply to anyone.
He wrote that he didn't believe Kane's conduct towards Ballazhi was malicious.
He wrote that it exhibited insensitivity and added, "Such insensitivity, though, did not seem uncommon in his office."
If the offense warranted discharge, Schaake would have understood that she should have taken action, he wrote.
"Although Hendricks denies it, her testimony indicated that she might have mentioned this matter to Hendricks only because he asked her to come up with other incidents when he was preparing the charges against grievant," he wrote.
Simon reduced Kane's discharge to suspension for time served, without pay.
He wrote that the employer must assume responsibility.
"It cannot pick one incident out of several and decide to discharge an employee without letting him know that his conduct was unacceptable," he wrote.
He recommended an anger management program for Kane.
He found the Aladdin incident did not rise to a level warranting discipline, and he removed references to it from the record.
He wrote that Kane might attend a program on cultural sensitivity, and added that others in the office might benefit by it.
In spite of Simon's decision, Gibbons didn't reinstate Kane.
The union filed suit in Madison County circuit court, and Circuit Judge Barbara Crowder ordered reinstatement with back pay in July 2013.
Gibbons reinstated Kane and assigned him to the old hospital, where the state's attorney preserves inactive case files.
Gibbons placed Kane under Hendricks's supervision.
Kane wrote in his current affidavit that, "I was the only Madison County employee assigned to the third floor of the old Wood River Hospital."
"For many hours each day I was cut off from any interaction with any other persons.
"From July 29, 2013, to Sept. 18, 2013, I had no electricity on the third floor in my work area."
Kane wrote that he mostly worked in areas that lacked heat and air conditioning.
He remained there until December 2014, when he left to work at an Edwardsville law firm.
Meanwhile, the Illinois Department of Human Rights found substantial evidence of gender harassment by Hendricks against Kane.
The department stated that, "The investigation revealed the alleged comments were sexual in nature and while not egregious, were pervasive and continued over a period of time and may have created an offensive working environment."
Kane sued the state's attorney's office and the county in 2016.
The county moved to dismiss the suit, and Senior District Judge Phil Gilbert denied the motion.
Gilbert set trial for last May, but vacated the date and didn't set another.
County counsel Narcisa Symank moved for summary judgment last December, writing that Kane received back pay, vacation time, sick time and personal time.
"Plaintiff was made whole," she wrote.
She wrote that at the old hospital, Kane had an office, a refrigerator, a television, and a chaise lounge.
She wrote that Kane didn't allege harassment by any employee but Hendricks.
Barron responded that defendants refused the arbitrator's ruling for months.
He wrote that they required Kane and his union to secure a court order, they created a job demanding significant heavy lifting and manual labor at an isolated location, they isolated Kane from coworkers and the public and they treated and identified Kane as a pariah.
Barron wrote that the findings of the human rights department precluded an award of summary judgment.
He wrote that according to arbitrator Simon, Gibbons admitted that he partly or wholly based Kane's termination on the filing of the harassment claim.
"A reasonable jury could rely upon this startling admission to find that the decision to terminate plaintiff's employment was retaliatory," Barron wrote.
He wrote that a reasonable jury could conclude that the act of shunning and shaming Kane was retaliatory.