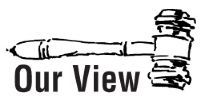 Despite all his years on the bench, former Madison County circuit judge Nicholas Byron seems not to have mastered the stool.
According to a complaint he filed in Madison County Circuit Court, while donning socks astride a saddle stool just before Christmas 2013, he fell and injured his tailbone.
More than two years later, on Oct. 8, 2015, having concluded that the accident could not possibly have been his fault and that the stool must have collapsed beneath him as the result of a defect, Byron filed suit against the Glen Carbon Walmart from which he purchased it.
Walmart recently filed for summary judgment against Byron, arguing that the stool was not defective, that Byron offered no evidence or testimony to substantiate his claim, and that his account of his purchase did not comport with store policy. (Byron originally claimed that he had bought a pre-assembled floor model of the stool, but Walmart says it does not sell floor models).
"Plaintiff can only point to his fall and resulting injury as proof of a defect in the Stool, nothing more," Walmart argued in its motion for summary judgment. "Plaintiff has not disclosed an expert witness with respect to any potential defect in the Stool, and the time for Plaintiff to do so has passed."
Unlike Byron, Walmart says it has an expert witness ready to testify to the soundness of the stool. Oddly enough, his examination revealed that "the lower cross bar of the Stool was struck by an overhead object with significant force," which suggests that the stool was subjected to substantial abuse at some point – in the process of assembly before the accident, perhaps, or in some way afterward?
In his 2011 book, Lawyer Barons, Lester Brickman noted that Stephen Tillery's law firm "has amassed around $600 million in fees and more than $1.8 billion in settlements of class action cases. . . . Most of Tillery's cases," Brinkman said, "were filed in Madison County, Illinois, and presided over by Judge Nicholas Byron."