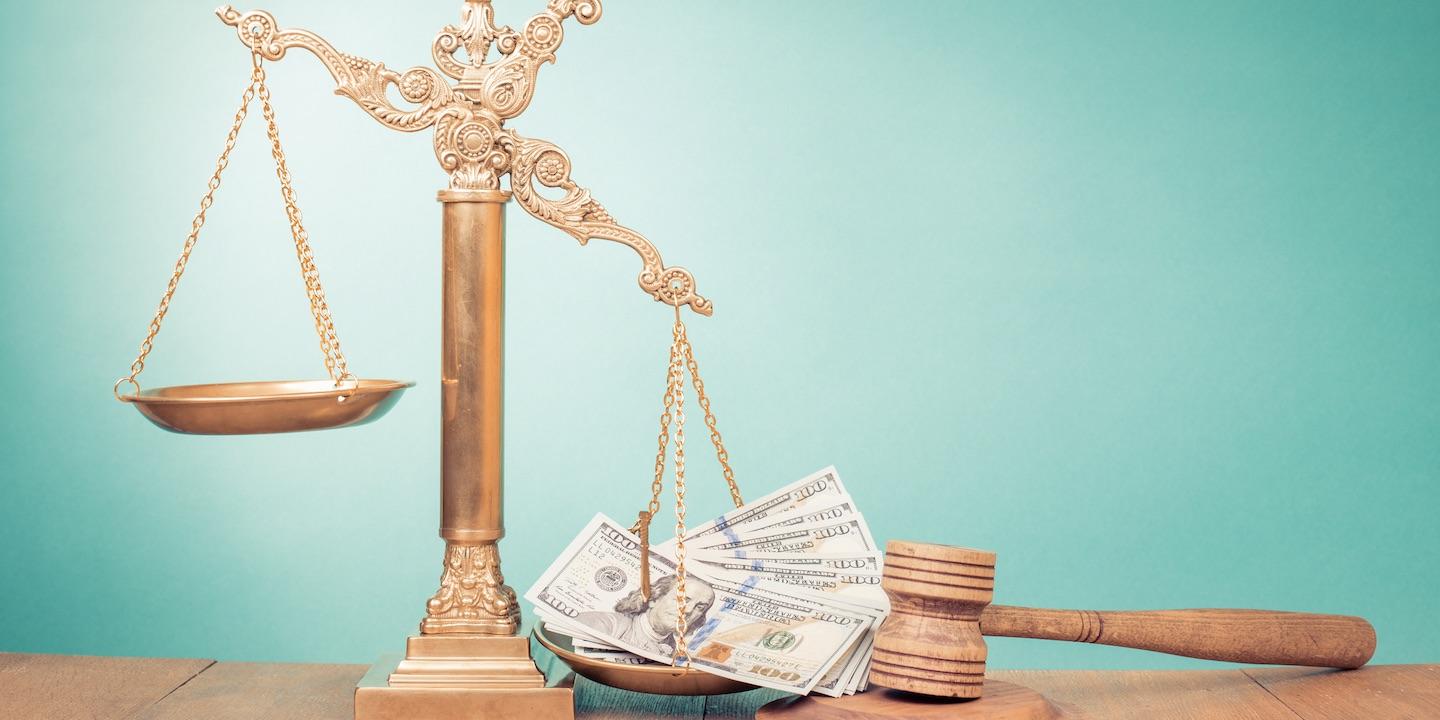 St. Clair County saw 13 civil cases go to trial in 2017 with a total of approximately $4,046,499.82 awarded to plaintiffs in 10 of those cases.
In a medical malpractice suit alleging negligence during birth, a woman and her daughter were awarded $3.75 million in their third trial.
The remaining $296,499.82 was distributed among nine law and arbitration cases involving car crashes and theft.
The three defense verdicts involved personal injury and medical malpractice suits.
On Jan. 25, 2017, motorist Arthur Lange was awarded $5,500 in a car crash suit in Chief Judge Andrew Gleeson's courtroom (14-L-159).
Lange alleged defendant Chris Bednara negligently caused a rear-end collision Feb. 21, 2012, on I-55 in East St. Louis.
Bednara admitted he was negligent and that Lange was injured, but he denied that the plaintiff was injured to the extent he claimed.
Lange was represented by John Wilbers of The Wilbers Law Firm LLC in Clayton, Mo.
Bednara was represented by Roger Wilson of St. Louis.
Motorist Sherry Katzman was awarded $35,294.76 in damages on March 28 following a trial in Associate Judge Heinz Rudolf's courtroom involving a Belleville rear-end collision (16-AR-523).
Katzman alleged that on Jan. 5, 2016, she was driving a 2013 BMW 3281 on Foley Drive approximately 50 feet west of Mitchell Lane in Belleville. At the same time and place, defendant Toya Miles was driving a 2013 Chevrolet Malibu when she allegedly rear-ended the plaintiff.
On Nov. 1, the arbitrators entered an award against Miles and in favor of Katzman in the amount of $45,000, plus costs. On Nov. 28, Miles rejected the award of the arbitrators and requested a jury trial.
Katzman was represented by Steven Katzman of Katzman & Sugden LLC in Belleville.
Miles was represented by Paul Travous of St. Louis.
A motorcyclist was awarded $50,000 on March 14 in Rudolf's courtroom following a crash he says was caused when he had to swerve to avoid a minor girl who rode her bicycle into his path (14-L-494).
However, jurors found plaintiff Paul Lee Jr. 30 percent negligent and defendant January Probst, a minor by and through her mother Amanda Conklin, 70 percent liable in the collision.
Lee alleged Probst was riding a bicycle on June 12, 2012, near 901 South 74th Street while under the supervision and control of her father when she rode into the path of the plaintiff. Lee claimed he swerved to avoid the girl and crashed his motorcycle.
The defendants denied liability. They argued that Lee's injuries were caused by his own negligence.
Lee was represented by Francine Johnston of Neubauer Johnston & Hudson in Fairview Heights.
January Probst and Scott Probst were represented by Michael Murphy of Freeark Harvey & Mendillo in Belleville.
In April, motorist Brian Knepp was awarded $7,654.08 in a car crash trial in Rudolf's courtroom (16-AR-108).
Knepp alleged he was driving a 2003 Ford Escape eastbound on I-64 in Caseyville Township when defendant Gregory Meyer's 2006 Ford F150 truck collided with his vehicle while attempting to change lanes.
Knepp alleged the impact caused his vehicle to spin out of control and crash into the median wire on the left side of the interstate.
On Sept. 22, the arbitrators decided on an award in favor of Knepp in the amount of $13,000, plus costs of $343.
Meyer rejected the award on Oct. 11 and requested a jury trial.
Knepp was represented by William Miller III of Alton.
Meyer was represented by Roger Wilson of St. Louis.
Jurors awarded a man $2,865.43 on April 27 in a suit alleging various counts of damage, theft and failure to pay (13-AR-1201).
The trial was held in Rudolf's courtroom.
Plaintiff Robert Phillips argued that he lent defendant Brenden Picou his 2003 Ford F-150 truck and 2006 Ford Escape in the summer of 2013, which were allegedly returned damaged.
He also alleged the defendant committed burglary in his home that same summer, stealing computer equipment, jewelry, an iPod and a saxophone.
Further, Phillips claimed he co-signed on an $11,000 Harley Davidson motorcycle loan for Picou. However, he had to make regular payments on the bike loan when the defendant failed to make payments.
On Oct. 17, arbitrators ruled in favor of Picou for count I and in favor of Phillips for counts II and III. Phillips was awarded $13,000 and $1,260. Phillips rejected the award on Nov. 7.
Phillips was represented in the case by W. Jason Rankin and Jason D. Johnson of HeplerBroom in Edwardsville.
Picou was represented in the case by Laura Beasley of Joley, Oliver & Beasley PC in Belleville.
On May 9, jurors returned a defense verdict in Rudolf's court in a Metro passenger's suit alleging his prosthetic eye popped out of his head when the train doors closed on him (15-L-320).
Plaintiff Alvin Golliday alleged he was riding on a Metro train on Sept. 14, 2014, when he was told to get off because the train was being taken out of service. As he was leaving the train, he claimed the doors closed on him, causing him to be crushed and injured. He claimed his prosthetic eye popped out of his head and he had to walk around without an eye in his face for several months.
Metro claimed the plaintiff exaggerated his injuries and denied Golliday's allegation that the door made contact with him in such a way as to cause his alleged injuries.
Golliday also allegedly "moved erratically, in a manner inconsistent with the flow of alighting passengers and in a manner consistent with the infliction of self-harm…"
Golliday was represented by Mathew Young and Derek Siegel of Kuehn Beasley & Young PC in Belleville.
Bi-State Development Agency of the Missouri-Illinois Metropolitan District, doing business as Metro, was represented by corporate attorney Richard Rudd and Yvette Boutaugh of Hinshaw & Culbertson.
Jurors returned a defense verdict on May 31 in Gleeson's courtroomin a medical malpractice suit alleging the defendants failed to recognize the severity of a patient's spinal injury (14-L-235).
Plaintiff Donald Santel alleged he developed right shoulder and neck pain after he slipped and fell onto a concrete surface on Feb. 26, 2013.
He was diagnosed with a shoulder sprain and returned home. As the pain persisted and became worse, an MRI revealed thecal sac narrowing, asymmetric disc protrusion and cord flatting. Santel underwent urgent neurosurgery, which revealed purulent drainage, C5-C6 diskitis and a spinal infection.
Santel underwent a fusion of his spine and an incision and drainage during the surgery, the suit states.
Santel was represented in the case by Amy Gunn of The Simon Law Firm PC in St. Louis.
Physician's assistants Rachelle Leach and Stephanie Armstrong were represented in the case by Ted Harvey of Freeark Harvey & Mendillo PC.
Nurse practitioner Elizabeth Kraus and Midwest Emergency Department Services were represented by Kenneth Burke of Brown & James PC.
On June 6, motorist Keenan Lane was awarded $107,706.57 in Circuit Judge Vincent Lopinot's courtroom following a Shiloh collision (15-L-588).
Lane alleged he was driving his vehicle southbound on North Green Mount Road in Shiloh on Dec. 4, 2013, when defendant Anne Flahive rear-ended him.
Flahive denied liability, arguing that Lane had a history of throwing his back out.
Lane was represented in the trial by Michelle Rich and Christina Cooksey of Fairview Heights.
Flahive was represented in the case by David Hesse of the Law Offices of Bingley, Hart & Hesi in St. Louis.
Jurors awarded Budget Rent-A-Car $36,462.48 in Associate JudgeThomas Cannady's courtroom on July 10 in a suit seeking reimbursement following an East St. Louis collision involving one of its rented vehicles (15-AR-634).
Rent-A-Car alleged that defendant Shanika Cleveland rented a Hyundai Sonata from May 16, 2010, through May 23, 2010.
On May 22, 2010, Cleveland allegedly allowed Sammy Morning, an unauthorized person, to operate the vehicle in violation of the rental agreement.
Morning collided with two other vehicles at the intersection of 30th Street and State Street in East St. Louis, in which Carl Sheard, Dominic Scott, Rosie Marshall and Ebony Jimerson were allegedly injured.
The plaintiff claimed it was liable to the injured drivers and passengers and incurred total damages of $36,462.48.
Cleveland denied liability, arguing that the vehicle was taken from her home by Morning without permission and authority and that Rent-A-Car paid the other drivers and passengers as a volunteer.
Cleveland filed a motion for judgment notwithstanding the verdict or a new trial on Aug. 1. Her request was denied Oct. 30. Cleveland appealed.
Rent-A-Car was represented by Laura Beasley of Joley, Oliver & Beasley PC in Belleville.
Cleveland was represented by David Duree of David M. Duree & Associates PC in O'Fallon.
A jury ruled in favor of defendant Securitas Services USA on Aug. 30 in Lopinot's courtroom in a suit alleging a man was injured when he was tackled and handcuffed by security officers after leaving the East St. Louis Schnucks pharmacy (14-L-154).
Plaintiff Anthony Nicholson alleged he was a customer at the Schnucks pharmacy in East St. Louis on Aug. 8, 2012. As he was leaving the store, he alleged he was tackled and handcuffed by two security officers working at the store who are employed by Securitas. He claimed he was handcuffed for no reason and held against his will.
Securitas and its officers denied that the security officers tackled Nicholson or forced him to the ground. They denied that the officers acted negligently and that the plaintiff sustained any injury, physical or emotional.
The defendant filed a motion for judgment of defense costs on Sept. 6. Lopinot granted the request, awarding Securitas $1,099.07.
Nicholson filed a motion to vacate and set aside the verdict and for a new trial on Sept. 29. He argued that he was deprived of a fair trial "in that defense counsel utilized peremptory challenges to excuse African American jurors, thus depriving the Plaintiff, an African American, of a trial by a jury of his peers."
He also argued that the defense counsel gave opening statements during voir dire. He further claimed the court erred in striking testimony by Dr. Philip Dennis and by "unfairly restricting" the plaintiff's counsel from cross-examining defendant employees.
Gleeson denied his request. Nicholson appealed on Nov. 27.
Nicholson was represented at trial by attorney William Stiehl of Wimmer Stiehl and McCarthy in Belleville.
Securitas was represented by attorneys Steve Kaufmann and Matthew Champlin of HeplerBroom LLC in Edwardsville.
A motorist and passenger were awarded $4,174 and $11,756 on Nov. 27 in an O'Fallon car crash suit in Rudolf's courtroom (16-AR-784).
Defendant Michael Fickes had previously admitted negligence but denied the plaintiffs were injured to the extent alleged.
Plaintiffs Laura Reading and Tyesha Reading alleged Laura Reading was operating a vehicle on North Green Mount Road at its intersection with West Highway 50 in O'Fallon on Oct. 9, 2014. At the same time, Fickes was driving a vehicle from the driveway between CVS Pharmacy and Frieze Harley Davidson, attempting to turn onto North Green Mount Road, when he allegedly caused a collision. The plaintiffs allege Fickes was unable to stop his vehicle in time to avoid causing a crash.
On Aug. 9, the arbitrators made an award in favor of the plaintiffs and against the defendant for $48,500, plus costs.
On Sept. 8, Fickes rejected the arbitration award and requested a jury trial.
The plaintiffs were represented by Daniel Broombaugh of Caraway Fisher & Broombaugh.
Fickes was represented by Tyler Beckerly of Zimmer & Associates.
On Dec. 11, a jury awarded motorist Samantha Schupbach $35,086.50 in a car crash trial in Rudolf's courtroom (16-AR-809).
Schupbach alleged she was traveling west on Illinois Route 154 in Pinckneyville on Nov. 7, 2015, when defendant Heidi Dickey failed to stop at a stop sign and struck the plaintiff's vehicle.
Dickey admitted negligence but denied Schupbach was injured to the extent alleged.
On Aug. 9, arbitrators awarded the plaintiff $42,000, plus costs. Dickey rejected the award on Aug. 30 and requested a jury trial.
Schupbach was represented by Bruce Cook of Cook Ysursa Bartholomew Brauer & Shevlin Ltd. in Belleville.
Dickey was represented by Rebecca Van Court of the Law Offices of Rouse and Cary in St. Louis.
A mother and her daughter were awarded $3.75 million in a re-trial on Dec. 13 in Associate Judge Chris Kolker's courtroom (02-L-729).
The plaintiffs were originally awarded $300,000 on June 8 in the medical malpractice suit alleging the minor suffered hypoxia and feta ldepression during birth.
The first trial in February 2015 ended in a mistrial. Following the second trial in June 2017, the plaintiffs sought a re-trial on damages only. They argued that the award was inadequate for a "young lady who has been deaf since birth and will be deaf for the remainder of her life."
Kolker found that the "jury got damages wrong" by returning "an inconsistent verdict." He granted a new trial on Sept. 26.
Plaintiff Dawn Dillon, individually and on behalf of Venessa A.Dillon, was awarded $100,000 for disfigurement, $1.25 million for loss of a normal life, $500,000 for pain and suffering, $900,000 for emotional distress and $1 million in medical expenses.
Dillon argued that her daughter experienced birth hypoxia and respiratory depression around the time of her birth on Nov. 26, 2001, causing permanent hearing loss.
Dillon alleged the defendants Heidi Sturtevant, M.D., and Ferdinand Mueller, Ltd., failed to deliver the baby when they knew or should have known that the baby was experiencing distress as evidenced by the fetal heart monitoring and failed to go over the chain of command to the charge nurse and chief of staff to try to intervene on behalf of the baby.
The defendants deny they were negligent.
On Jan. 10, the defendants sought to reinstate the prior $300,000 verdict.
Dillon was represented by Colleen C. Jones of Cook Ysursa Bartholomew Brauer & Shevlin LTD in Belleville.
The defendants were represented by Timothy S. Richards and MatthewC. Zittel of Neville Richards & Wuller LLC in Belleville.