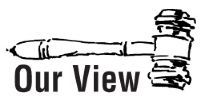 Do we want transparent government? Of course, we do.
Do we want to make it easier for any ambulance-chasing attorney to engage in barratry by requiring governmental agencies to provide information to them that will facilitate their solicitations? Of course, not.
Are these two desires mutually incompatible? At times, they may be. But governmental agencies are required by law to make certain documents public and are not responsible for how the information contained in those documents is used.
In other words, just because a governmental agency thinks that certain individuals might misuse information it is required to make public, that does not give that agency the right to withhold information from those individuals and the general public.
For instance, earlier this year, Chicago attorney Anthony Mancini was the target of a potential class action suit accusing him of breaking the federal Driver's Privacy Protection Act, which limits the use of personal information contained on official state motor vehicle records.
Mancini was accused of using the vehicle crash reports requested from the police department of the village of Schaumburg, under the Illinois Freedom of Information Act, to obtain the names and addresses of persons involved in crashes. A goal perhaps being to offer legal services to those involved in the crash.
A subsequent Mancini request for crash reports from the Schaumburg PD yielded redacted documents with the contact information blacked out.
How Mancini planned to use the information contained in the documents is an open question, but he has the legal right to request and receive the information, and the Schaumburg PD had the legal obligation to provide it to him in the same form as it would to anyone else.
Now Mancini has filed suit against the Schaumburg PD in Cook County Circuit Court for wrongful redaction.
He has a right to the information, knowing that he could be prosecuted or sued, if the information were misused. An interesting quandary that will play out in court.