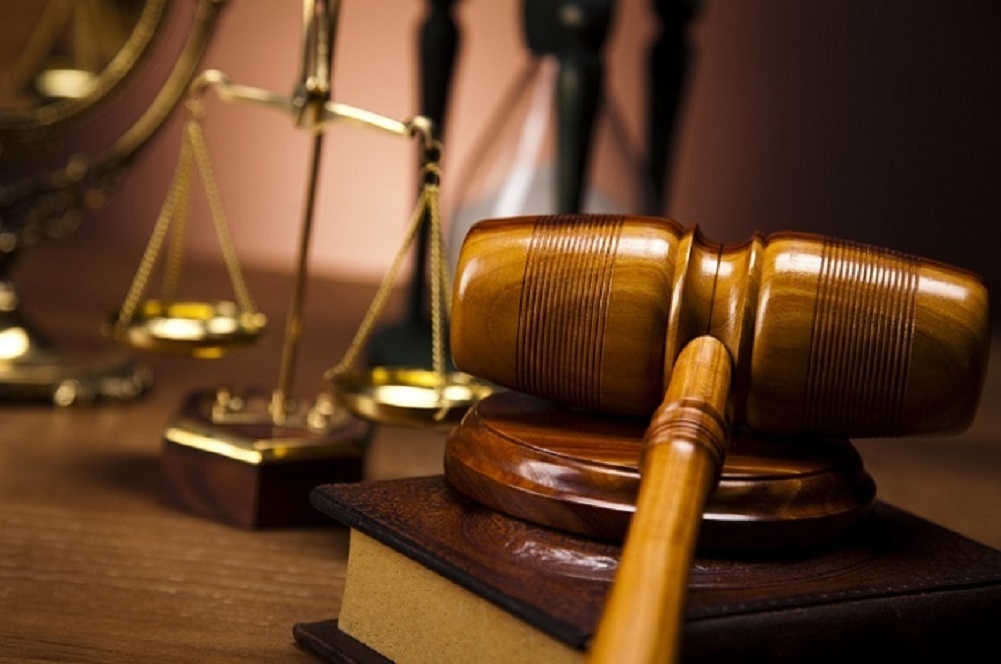 SPRINGFIELD – Illinois special prosecutor Brian Towne who currently faces 17 misconduct and misappropriation indictments initiated felony charges against four political foes while he was LaSalle County state's attorney.
As for outcomes of those four cases, an outside prosecutor dropped a perjury charge against lawyer Julie Ajster; appellate judges reversed a weapon conviction of local resident Jeremy Thompson; Jeremy's father Richard Thompson still faces charges that he threatened jurors who convicted his son - wrongly as it turned out; and defendant Danny French of Bureau County died this June, in his third year of fighting charges that originally involved one of Towne's campaign backers.
Towne, and special prosecutors from a board he led, charged all four leading up to his run for a second term as state's attorney.
Richard Thompson and Ajster continued opposing him after he charged them.
During last year's campaign cycle, Thompson deployed mobile signs reading, "Dump Towne" and "Lyin' Brian."
Ajster composed a letter filling 16 pages with allegations, and said later that it reached every home in the county.
Voters defeated Towne last November.
Their decision meant he had to resign as chairman of the board of governors at the Illinois State's Attorneys Appellate Prosecutor.
Chief appellate prosecutor Patrick Delfino softened the blow on his chairman by hiring him for the special prosecution unit at a salary of $130,000.
Last month, LaSalle County grand jurors returned 17 indictments against Towne.
They charged that he gave public funds away, spent public funds on himself, and directed staff to work for his campaign on office time.
Ajster, Jeremy Thompson, and 20 to 30 others gathered outside the courthouse at Ottawa for Towne's first court appearance on Sept. 21.
Thompson said, "I got my ankle bracelet off two days ago."
He spent a year in prison for attaching a laser to a BB gun and shining the laser at a deputy from his yard.
Fourth District appellate judges reversed his conviction on Sept. 6.
They found Chief Judge Chris Ryan should have excluded testimony that the muzzle velocity of the gun qualified it as a firearm.
Thompson said, "In prison they'd laugh when they asked me what I did and I told them I used a BB gun. I shined a laser in my yard, out in the country."
Most of Towne's critics at the courthouse last month wore T-shirts reading, "17 felonies. No bond? No arrest? No justice."
Thompson said, "Anybody else in town with these charges would be taken to jail and have to post bond."
Towne's charges against Ajster and French tied together.
On Dec. 19, 2014, Towne filed criminal information charging French with felony and misdemeanor telephone harassment.
The alleged victim, lawyer Jonathan Brandt of Peru, personally contributed $2,565 to Towne's campaign committee since 2007, and his firm contributed $2,800.
French retained Ajster, his fiancé, to defend him.
He posted $5,000 cash on $50,000 bond.
Ajster then sued Brandt on French's behalf in circuit court.
On April 7, 2015, grand jurors indicted French on charges of witness harassment, unlawful communication with a witness, and witness intimidation.
The charges involved a potential witness to French's suit against Brandt.
Towne asked for $750,000 bond, and associate judge Michael Jansz granted it.
On April 8, Ajster sued Towne and LaSalle County on French's behalf in U.S. district court at Chicago, alleging malicious prosecution in violation of civil rights.
In Jansz's court, Ajster filed an emergency motion to reduce bond.
At a hearing on May 7, she said her client was totally disabled.
She said he got $800 a month in Social Security.
"He's not a flight risk," Ajster said. "He doesn't drive."
She said a medical transport took him to the emergency room because he had chest pains and racing heart.
Jansz said, "After his arrest?"
Ajster said no. She said ambulance personnel asked police to come.
"He was hiding in the house," she said. "He doesn't dispute that.
"He sees probably 12 or 13 police cars outside his house and is wondering what is going on."
She said police allowed his brother to go in, and French eventually came out.
She disputed the charge of witness intimidation.
"It wasn't that he was threatening to kill somebody or that he was saying I'm going to blow up your house or anything," she said.
"It was hey, if you lie, I'm going to file a lawsuit against you."
Jansz asked assistant state's attorney Jeremiah Adams to respond, and Adams said he hadn't seen a police report.
"Your honor, I could just add that I was personally present so what I'm stating is what I observed," Ajster said.
Adams said the additional counts were allegedly committed while out on bond.
"This is an attack on the sanctity of the court and the sanctity of whatever is going to happen to the defendant in this case," Adams said.
He said French was a clear danger to anyone on the state's witness list.
Jansz asked Adams if he had a position with regard to French's health as it related to his continued incarceration.
"What I do know about the defendant's physical status is that it regularly changes depending on which excuse is going to be the most convenient at the time," Adams said.
He said Ajster raised Crohn's disease and French raised multiple sclerosis.
"We've been presented with the fact that he has a bad back," Adams said.
He said these were apparently issues in a personal injury case, and that different excuses for physical and mental issues were presented but none was substantiated in any way.
Jansz said French knew the warrant was out there and didn't come to court.
"I don't know that it's a specific attack on the court as counsel argued," Jansz said.
"I do know that the court has a high interest in maintaining the integrity of the proceedings.
"I do take note of the fact that Mr. French does appear to be more incapacitated today then he was when I saw him on March 6."
He reduced bond to $150,000.
Towne moved for reconsideration a day later, and Jansz held a hearing on May 13.
Towne, who had missed the previous hearing due to a trial, appeared at this one.
"Last Thursday certain representations were made to this court which I believe were deliberate falsehoods and deliberately stated to mislead this court into a reduction of bail," Towne said.
"Most of the police force of Bureau County was on scene that night as the man barricaded himself in the residence for an extended period of time."
He said Ajster indicated to police that he locked all doors and windows.
"The court is well aware of the fact that both times the defendant has appeared in court, both last week and this week, he has appeared by aid of a wheelchair and today with a nurse," Towne said.
"Somehow he managed to be upstairs, lock all the doors and windows, and then go downstairs and lock himself in a gun safe in the basement of the home."
He said French threatened officers with physical harm and lawsuits.
Ajster said the additional charges and $750,000 bond was too much stress in addition to spinal injuries and back problems.
She said a report from a Bureau County deputy differed from what Towne said.
"It wasn't an arrest," she said. "It was medical treatment."
She called French's brother Kenny to testify.
Towne told Jansz that Kenny would testify contrary to the police report, and was in jeopardy of committing perjury.
"Perhaps this is a situation where Mr. Towne has perjured himself," Ajster said.
Towne recited to Kenny his Miranda rights as a criminal suspect.
Ajster asked Kenny what happened.
Towne objected to a narrative, but Jansz said he'd allow it.
Kenny said he got out of his truck and a Spring Valley officer stopped him.
He said he told her, "That's my brother. I want to be here for him."
He said he told her, "He needs me now more than ever," and she said okay.
He said he told cops he wanted to go in and get his brother.
"I says, I know he'll listen to me," Kenny said. "I know because my whole life he's always listened to me in bad situations if they ever arose."
He said cops told him they had to go with him, and he said that was fine.
"They were concerned for their safety," he said. "I said that's why I want to go in."
He said he asked, "Please don't draw any weapons. Don't do anything."
He told how their search led to Danny's room, where a safe sat in a corner.
"I don't know what got into me but I shook the safe," he said.
"That's when Dan started saying things."
He said he had peace of mind, and he went outside and talked to Ajster.
"I wanted to put my own life there because he's my family," he said. "He's my blood."
Jansz stopped the narrative.
Ajster asked Kenny if he opened the safe with a key, and he said yes.
She asked if he reached in and grabbed Danny, and he said absolutely.
She asked if he placed Danny on the floor, and he said he did.
She asked if he asked law enforcement to cuff him, and he said he did.
She asked if Danny spit, and Kenny said, "He wasn't spitting at anybody in direct but he was kind of slobbering because he was worried."
"He's had surgery and I didn't want everybody ramrodding him and jumping on him because they didn't know the situation," he said.
"I kept patting him on the chest. Dan, everything's going to be all right."
Ajster finished, and Towne asked Kenny if Danny said he would shoot cops.
Kenny said, "He did not."
Towne asked if he put the shirt on Danny's mouth because he was spitting, and Kenny said he wasn't spitting.
"He was so cotton mouth it was coming out and he was just so wired and I just put it over," Kenny said. "I prevented everything from happening."
Towne asked Jansz to increase bond back to $750,000.
Jansz set it at $300,000.
He said he hadn't seen a case with so many allegations that someone didn't comply with conditions of bail.
Later that year Towne asked appellate prosecutor Delfino for a special prosecutor to investigate an affidavit Ajster filed with French's motion to reduce bond.
Delfino assigned prosecutor David Neal, who obtained a perjury indictment against Ajster in November 2015.
Delfino's office later bowed out of the case, and Grundy County state's attorney Jason Helland took it.
He chose to drop it, finding Jansz didn't refer to the affidavit at either hearing.
He found no evidence that Jansz read the affidavit.
He wrote that Jansz denied a request for an interview.
"It is also noteworthy that the first special prosecutor, Dave Neal, alleged that the first count of perjury occurred on April 29, 2015, yet he did not seek a bill of indictment until November 3, 2015, for two counts of perjury, both Class 3 felonies," Helland wrote.
"It was also unusual that a warrant was not issued for Ajster's arrest and a summons was issued to notify her of the first court date of Dec. 3, 2015."
He wrote that Ajster wasn't even required to file a sworn affidavit at the hearing.
Ajster achieved vindication but French died without it, though his death allows his civil rights suit to proceed in federal court.
District Judge John Tharp stayed it for two years pending the outcome of criminal proceedings, but those proceedings have ended.
On Aug. 31, he continued a conference so Ajster could open an estate.
On Sept. 27, Ajster moved to substitute estate administrators Kenny and Donna French as plaintiffs.