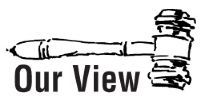 There's never a dull moment in St. Clair County, what with judges and other public servants always finding new ways to entertain us with their disturbing antics.
Every day it's something different: judges sealing cases for no apparent reason, judges having their unsupportable rulings overturned by higher courts, judges awarding millions of dollars to friends, judges gaming election laws, judges drinking and driving, judges using drugs, judges going to jail for using drugs, judges conducting bogus investigations of judges using drugs, and so on.
What's the latest escapade? A Twentieth Judicial Circuit judge is being investigated for sexual misconduct. At the request of State's Attorney Brendan Kelly, St. Clair County Chief Judge Andrew Gleeson has ordered the appointment of a special prosecutor to investigate the allegations.
While officials won't identify the judge on the record, suffice it to say the individual is a familiar target whose only verifiable sin, thus far, is his political affiliation - Republican.
So, what's going on? Could it be that an obstruction of justice investigation of a certain St. Clair County judge is falling apart, because an underlying murder investigation is falling apart? Thus, a new investigation is needed to provide cover for keeping this judge from exercising the role voters elected him to do?
With the recent death of Robert LeChien and the sidelining of Circuit Judge Ronald Duebbert, the St. Clair County judiciary is operating without the services of two circuit judges. Given Gleeson's reluctance to initiate the process for filling LeChien's vacancy - not wanting a Republican appointed at the recommendation of a Republican Supreme Court Justice (gasp); and disabling Duebbert from taking on judicial duties, taxpayers could conclude that those two positions that pay $178,835 per year are not needed.
Let's be real, though. In a county that's a magnet for big ticket civil litigation, the absence of two elected circuit judges who would normally preside over such cases has got to be burdening the docket of other judges. But what happens in St. Clair County is not close to normal. It's just that the ones who run the system define normal in an abnormal way.