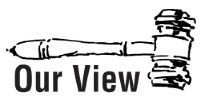 If you hoped that Illinois might lose its dubious distinction as a state with one of the worst lawsuit climates in the country, you hoped wrong.
In the Lawsuit Climate Survey published periodically by the U.S. Chamber Institute for Legal Reform, Illinois has ranked among the bottom five for the past 10 years, earning a disreputable 48th place in 2015. But there was always the chance that some similarly misguided state, envious of our execrable-ness, would succeed in wresting our third-worst position from us – or, less likely, that our state legislators would address our many business-unfriendly policies and enact reforms.
Didn't happen. Our status remains unchanged. The 2017 issue of the survey is out and we're stuck at 48.
Which is not surprising, given that we continue to do all the self-defeating things that got us to such a low ranking in the first place, such as putting out welcome mats in front of the courthouses in Cook , Madison, and St. Clair Counties to let out-of-state plaintiff attorneys and their out-of-state clients know they'll get a friendly reception here.
Nearly two thirds of the lawsuits filed in Cook County in 2015 were filed by out-of-state plaintiffs. More than four fifths of the asbestos suits filed in Madison County in 2016 were filed by residents of other states.
Those same metaphorical welcome mats double as "closed for business" signs for companies that might consider relocating to Illinois or opening a branch office here.
How much money and psychic energy have been devoted to the worrying threat of climate change (AKA global warming) over the last decade? Can you imagine if a fraction of that money and energy had been dedicated to the abatement of the real damage done to our state's economy and the prospects of its citizens by our deplorable lawsuit climate?
Wouldn't it be nice if lawmakers concentrated on things they can fix in a relative hurry?