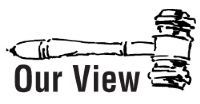 "Round up the usual suspects."
That's the order Captain Renault gives to subordinates at the end of Casablanca, even though Rick, the man who shot Major Strasser, is standing right there in front of him.
Rounding up the usual suspects seems to be the approach taken by some attorneys at asbestos law firm Gori Julian when targeting companies on behalf of clients. Whether or not they have any connection to the cause of action seems not to matter. The primary concern, apparently, is whether or not they have assets to be plundered.
Conveniently for law firms like Gori Julian, most defendants find it simpler to settle even baseless claims against them, rather than incur the risk and expense of going to court.
But some defendants are getting tired of being rounded up again and again.
Having failed to persuade Madison County Associate Judge Stephen Stobbs to sanction Gori Julian for making an evidence-free case against it, Chicago-based Avocet Enterprises is now asking Fifth District appellate judges to do just that.
Judge Stobbs professed to find the motion for sanctions moot after claims against Avocet were dropped at the last minute, but the company's attorney challenged the judge's reasoning.
"The closing of a case does not have any bearing on whether sanctions should be awarded," David Chizewer wrote in his appeal brief last month.
"Plaintiff named Avocet without any good faith basis, intending only to harass Avocet into a decision to settle the case rather than incurring the fees and costs to defend.
"Plaintiff completely failed to provide any facts whatsoever from which one could infer that Avocet was responsible for plaintiff's asbestos exposure.
"This failure was not an innocent oversight."
Chizewer noted that Gori Julian "has sued Avocet in more than 400 similar cases and . . . all but four of those cases resulted in dismissal without liability and without a single dollar in settlement payments."
Unlike Gori Julian's cases, Avocet's case for sanctions seems air-tight.