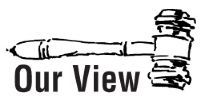 Kudos to Gov. Bruce Rauner for exercising his amendatory veto power to spare Illinoisans the aggravation and expense of challenging a potentially unconstitutional law.
Democrats in both houses passed a bill expanding last year's Unclaimed Life Insurance Benefits Act to require insurance companies to locate beneficiaries of unclaimed life insurance policies as far back as 1996.
Republican State Sen. Kyle McCarter had labeled the proposed bill unconstitutional, what with its retroactive imposition of new obligations on pre-existing contracts, but his logical objection fell on deaf ears.
Gov. Rauner called House Bill 302 "inequitable and potentially unconstitutional" when he issued his amendatory veto last week, noting that it would have created a two-tier enforcement timeline for companies that do and don't have searchable e-records.
"An insurer's obligation to comply with HB 302 should not depend on differences in its record retention policies," he said.
Rauner also decried the "overreach of private auditing firms." One such firm has made more than $20 million in finder's fees in the last six years.
"The expansion of these private auditors, however, incentivizes behavior that rewards private companies at the expense of state taxpayers," he said, noting that money recovered could have been used to pay down "our state's desperately underfunded pension liability."
Rauner's veto also prohibits contingency fee arrangements for auditors examining in-state policy holders. So, here's the question: Why did our elected representatives pass such a law in the first place?
The only real, direct beneficiaries seem to have been the private auditing firms raking in millions in finder's fees. Was that what this was all about? Another chance for the Democrats to enrich their friends and enable them to return the favor with generous campaign contributions?