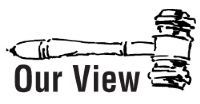 "I'm afraid this is not the proper forum for your lawsuit, Mr. Gamer. The alleged injury you're seeking damages for did not occur in Illinois and no defendant has a connection to this state. As an Illinois judge, I cannot assert jurisdiction over a case that has nothing to do with Illinois. Do you understand what you need to do?"
"I get your drift, judge. Find some warm body from Illinois and add him as a defendant, right?"
When judges are too subtle or give the parties appearing before them too much credit for following simple guidance, erroneous conclusions can be drawn by the latter.
That may explain the behavior of plaintiff Bernard Henneberger, whose breach-of-contract suit was dismissed by an Illinois district court on jurisdictional grounds.
What did Henneberger do? He drew the wrong conclusion and refiled his suit, this time adding an Illinois-based party with a tenuous connection to his claim.
Judges were not amused, at both district and appellate levels.
Seventh Circuit appellate judges affirmed the district court's second dismissal of Henneberger's suit on jurisdictional grounds, recognizing and denouncing his ploy as an effort to defeat removal and dismissal.
"The [district] judge observed that the suit's sole connection with Illinois is that Henneberger now lives there, while personal jurisdiction depends on the activities of the defendants rather than those of a mobile plaintiff," the appellate justices wrote in their opinion.
They noted that Henneberger could have responded to the district court's decision by recognizing that he needed to pursue the case in one of the two states to which defendants are tied, Texas and Virginia, but Henneberger chose to refile in Illinois.
"Henneberger should count himself lucky that defendants have not asked for sanctions," the justices chided. "He cannot expect to avoid penalties if he continues his doomed attempt to litigate this claim in Illinois."
Hint to Henneberger: Don't push your luck.