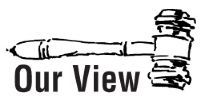 Having no scientific basis for their claims may not stop some venue-shopping, payday-seeking plaintiff lawyers, but recent U.S. Supreme Court decisions regarding the right place to bring a lawsuit could stop the trolling.
Attorneys filing talcum powder lawsuits against Johnson & Johnson in plaintiff-friendly St. Louis courts will have to fine-tune tactics in light of the Supreme Court's Squibb decision and a local judge's logical response to it.
The Supreme Court's 8-1 decision rejecting a California-based action against Bristol-Myers Squibb on jurisdictional grounds prompted 22nd Circuit Court Judge Rex Burlison last week to declare a mistrial in the Swann v. Johnson & Johnson case that had been underway for about a week in St. Louis. Burlison's declaration of a mistrial on the similar grounds means plaintiffs' attorneys will have to try a lot harder to establish a connection to the venue where they want to bring suit.
They'll have to show that the clients are from Missouri, that the products causing the alleged injuries were purchased in Missouri, or that the company being targeted is headquartered or incorporated there.
Last year, a St. Louis jury found in favor of plaintiffs claiming J&J's Baby Powder as a cause of ovarian cancer, and the multimillion-dollar award got other operators thinking, and more lawsuits were filed and more verdicts resulted. Cases are being appealed.
"Unfortunately, the jury's decision goes against 30 years of studies by medical experts around the world that continue to support the safety of cosmetic talc," said a J&J spokesperson following the verdict. "Multiple scientific and regulatory reviews have determined that talc is safe for use in cosmetic products and the labeling on Johnson's Baby Powder is appropriate."
Johnson & Johnson appealed that decision and also requested a change of venue, arguing that the St. Louis jury pool had been poisoned by an abundance of trolling-attorney advertising alleging a connection between talcum powder and ovarian cancer.
Lawyers for Johnson & Johnson can, and should, cite Judge Burlison's mistrial declaration as grounds for an appeals court to throw out five other cases lost where venue appears to be an issue.