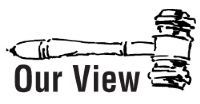 A productive member of our society has passed away.
It was a company, not a human being, but it provided livelihoods for thousands of men and women, and useful products and services for millions more.
Giving up the ghost after a long illness caused by asbestos lawsuits, Kaiser Gypsum (KG) applied for bankruptcy protection last September. The number of lawsuits filed against the company immediately plummeted and they were soon forgotten.
You can't beat a dead horse, right? Time to move on to the next potential victim. That's the thinking of plaintiffs attorneys, according to Jonathan Terrel, founder of KCIC, a DC-based consulting firm that analyzes asbestos litigation across the country.
As evidence of exposure to KG products disappears from the tort system, Terrel explains, the incentive grows for litigants to try to extract larger settlements from other, still-solvent defendants, and the feeding frenzy continues.
Death by asbestos lawsuit is a common form of fatality for otherwise healthy American corporations. KG is merely the latest of more than 100 corporate victims.
To say the deaths of these companies were senseless would be an understatement. Millions of employees lost jobs when the companies went under, millions of shareholders saw investments destroyed, and the alleged victims of asbestos exposure received pittances for their injuries, real or imagined. The plaintiffs attorneys made out like bandits.
U.S. District Judge Jack Weinstein once warned that "every company with even a remote connection to asbestos may be driven into bankruptcy."
How many companies are there in America with a remote connection to asbestos? How many employees would lose their jobs and how many shareholders would lose their investments if every such company succumbed to death by asbestos lawsuit?
A person with genuine injuries resulting from another party's negligence deserves redress, but asbestos lawsuits aren't providing that. They're enriching a relentless few and causing tragic disruptions in the lives of millions.