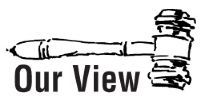 You're taking a stroll on a nice spring day and someone stops you and says,"Excuse me, sir, I was just wondering. You see that house over there, across the street? Just out of curiosity, what do you think a house like that would go for?"
You have a vague idea of what houses sell for in this neighborhood, so you respond, "Oh, I don't know. Half a mil? Maybe 600 grand?"
Then, out of nowhere, the guy says,"Okay, buddy, you're breaking the law!"
You protest, demanding to know what law you've allegedly broken, and he says, "Offering home appraisals without a license. It's against the law."
You deny that you offered an appraisal, but he says that you did, that you estimated the value of the house at 500 to 600 thousand dollars and he heard you.
You insist that it wasn't an estimate, but only a wild guess, and that he was the one who pressed you to make it. "Tell it to the judge," he replies.
In Illinois, it is indeed "unlawful for a person to (i) act, offer services, or advertise services as a State certified general real estate appraiser, State certified residential real estate appraiser, or associate real estate trainee appraiser, (ii) develop a real estate appraisal, (iii) practice as a real estate appraiser, or (iv) advertise or hold himself or herself out to be a real estate appraiser without a license."
But the law clearly isn't meant to punish a layman's speculation about real estate prices, and it specifically exempts "an automated valuation model," which it defines as "an automated system that is used to derive a property value through the use of publicly available property records and various analytic methodologies such as comparable sales prices, home characteristics, and historical home price appreciations."
Which means that certain Illinois home builders have no basis for the suit they've filed against Zillow, claiming that the 'Zestimates' generated by its automated valuation model violate this law.