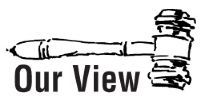 Two of three scheming shakedown artists have met their fate. One died of a heart attack after fraudulent activities were exposed. Another has plea-bargained and awaits sentencing. The third has pled not guilty to the same charges, and faces trial.
A prominent St. Clair County judge has lots of questions to answer for his role in rulings that helped facilitate the shakedown scheme.
Attorneys Paul Duffy (deceased), John Steele, and Paul Hansmeier contrived to extort millions of dollars from online porn users. Purporting to represent internet sites whose obscene videos had been accessed illegally (and sometimes secretly sharing proprietary interests in them), they demanded user addresses from internet service providers (ISPs) so they could identify the non-paying peepers and offer them the opportunity to protect the privacy of their prurient pastimes with out-of-court settlements.
When the trio's local counsel, at first retired judge Michael O'Malley, moved for early discovery on behalf of a putative client in December 2011, St. Clair County Circuit Judge Andrew Gleeson readily granted it, allowing the plaintiffs to serve subpoenas for the identities of the John Does in question.
Gleeson's ruling was reversed by Fifth District appellate judges. Undaunted, he approved a second motion for discovery against another ISP in 2013, but was reversed again.
The scheme began to unravel when a federal judge in California sanctioned the trio, referring their names to the Internal Revenue Service, the U.S. Attorney in Central California, and the state and federal bars in which they practice.
Last December, a grand jury in Minnesota federal district court indicted Steele and Hansmeier on charges of wire fraud, mail fraud, money laundering, and perjury.
Steele has since pled guilty and been disbarred by the State of Illinois. He faces eight to 10 years in prison, fines of up to $300,000, and a restitution order for $3 million.
What will be the fate of Paul Hansmeier? What fate should be faced by now-Chief Judge Andrew Gleeson?