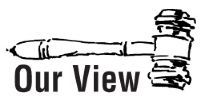 If everything works out the way he hopes, Republican State Sen. Kyle McCarter of Lebanon may be leaving the state legislature and beginning a dramatic new phase in his life. He's been recommended to President Donald Trump as the ideal candidate to serve as U.S. Ambassador to Kenya.
What does McCarter know about Kenya? Quite a lot. He's done missionary work in that East African nation for the last 30 years and visits twice annually as the international director of the Christian ministry group Each One Feed One, which runs a school and a medical clinic northeast of Nairobi.
Touting that experience, seven of McCarter's colleagues – U.S. Congressmen Mike Bost, John Shimkus, Rodney Davis, Darin LaHood, Randy Hultgren, Adam Kinzinger, and Peter Roskam – wrote to the President last week, recommending McCarter for the ambassadorship.
"Through his work in Kenya, he has experience negotiating with tribal chiefs and other dignitaries, along with logistical and other administrative experience working with the Kenyan government," the congressmen wrote.
"Additionally, he has experience working with USAID and other organizations, including Compassion International within Kenya, to provide healthcare for over 3,000 Kenyan children.
"He has outlined specific ideas for reforms of USAID spending," his colleagues continued, "including curtailing waste, fraud, and abuse within the program. He has also identified ways to support your Administration's 'Buy American' strategy in Kenya and boost the American economy through Kenyan investment and additional support for American companies in the African marketplace."
McCarter thinks his time in the state legislature is another key asset.
"I probably would not be prepared for this next position if not for what I have learned in the Illinois Senate," he said.
We encourage President Trump to heed the recommendation of McCarter's colleagues and name him ambassador to Kenya.
As one of the most stalwartly conservative members of our state senate, McCarter will be missed, but Illinois' loss will be Kenya's gain.