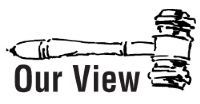 "It is disturbing to me that we spend so much money on legal fees in Madison County," says County Board Member Tom McRae of Bethalto.
Countless other Madison County residents are also disturbed. They know that many of the fees are unnecessary and would never have been incurred if county officials weren't continually diverting public funds to efforts to oppose the public will.
The most recent example: an effort to invalidate petitions supporting last year's tax-limiting ballot initiative.
Then-Board Chairman Democrat Alan Dunstan opposed the initiative, arguing that a property tax rate reduction would cut funding for vital services such as law enforcement.
It's always the vital services that will be cut, never the nonessential ones.
What Dunstan really feared was that a successful ballot initiative limiting taxes would make it more difficult for him and his cronies to fund efforts to oppose such initiatives.
So it did. Voters approved the referendum nearly four to one (79 percent in favor).
The measure was supported by Dunstan's opponent in last year's election, new County Board Chairman Kurt Prenzler.
Old reliable Stephen Wigginton, now in private practice, led efforts to invalidate the tax-limiting petition signatures and came up short.
But it wasn't a complete loss, at least not for Wigginton. He managed to log 84.6 hours during his "investigation" – at $375 per hour – and has since billed the County for $31,725. Most of those hours were spent in meetings, with Wigginton on hand to decorate a room and feign interest in the gasbags holding forth.
Wigginton is the former U.S. attorney who found "insufficient evidence to charge anyone else" in the drug scandal surrounding former St. Clair County Judge Michael Cook. What seemed like a tornado touching down in the Metro East that day was really just a collective sigh of relief.
The reason we spend so much money on legal fees in Madison County is because someone--usually not the taxpayer-- benefits from it.