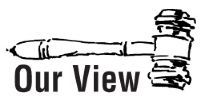 Is Texas Rep. Blake Farenthold tenacious or just stubborn?
Year after year, he's introduced legislation in the U.S. House of Representatives to promote fairness and honesty in asbestos litigation and to increase transparency in asbestos trusts. His bill would have prohibited the mingling of injured and uninjured consumers as plaintiffs in a single class action suit and would have required asbestos trusts to disclose claim information quarterly and comply with information requests from asbestos litigators.
"When attorneys and their clients bring false or exaggerated claims to trusts, they take assets from deserving victims," Farenthold said in 2013, when first introducing his bill.
The House has passed his proposed law more than once, but Farenthold had to know it would never survive then-President Barack Obama's veto, if passed by the Senate as well.
What was the point? Why did he keep introducing legislation with no hope of becoming law?
It may have seemed like a merely symbolic gesture, but it was a powerful one, representing an idea whose time had not yet come, but someday would. Plus, Farenthold's persistence undoubtedly had a demoralizing effect on protectors of the status quo, while emboldening advocates of reform, both factions knowing whose side Time is on.
Passage of the bill was an affirmation of the need for asbestos litigation reform as well, a testimony to the integrity of the legislators who voted for it, and a shot across the bow for asbestos attorneys gaming the system by double-dipping and inflating claims.
Passage of the bill in years past was also an indication of its potential to become law in the future, under a president committed to the common good instead of cronyism.
Is asbestos trust transparency an idea whose time has come? Will 2017 be the year that Farenthold's bill finally becomes law? Will his seeming stubbornness prove to be tenacity after all?
Lo and behold, Farenthold has introduced his bill again, and no one's snickering this time.