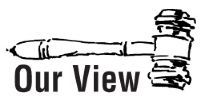 It must be contagious. Everyone seems to be catching it.
Everyone but us, that is.
We must be immune to it for some reason, which would be fine if what everyone else is catching were a bad thing. But it's not. It's a really good thing, and catching it would be one of the best things that could happen to us.
It is reform fever: the urge to fix the public policies and governmental practices that infringe upon our liberties, advance the interests of a favored few and drive good, honest, and successful individuals and businesses away from our state.
Indiana, Kentucky, Missouri – they've all caught reform fever, and they're acting on it and benefitting from it while we refuse to face reality and persist in the self-destructive habits that have hindered progress for too long.
In his recent State of the State address, Missouri's new Republican Governor Eric Greitens called for a wide array of reforms: stronger ethical guidelines for legislators, right-to-work legislation (since enacted), tort reform, regulatory reform, tax reform, etc.
Missouri state legislators are feeling the fever, too.
"The passage and signing of right-to-work into law overshadowed almost everything else occurring in the Capitol," the Missouri Times reported. "However, House Republicans also passed two important tort reform measures last week previously stymied in other years by Gov. Jay Nixon."
The same rapid progress in making prosperity possible again could be happening here in Illinois if reform measures proposed by Gov. Bruce Rauner were not opposed at every turn by House Speaker Mike Madigan and Senate President John Cullerton, who put their own interests and the interests of their cronies above the interests of citizens made to sacrifice on their behalf.
Sometimes a fever's a good thing, a natural, therapeutic response to disease. Our state is sick and could use a cleansing fever.
Why can't we catch the fever? Because mad doctor Mike Madigan won't let us.