St. Clair County Circuit Judge Robert LeChien should not have been in a position to grant a temporary restraining order for American Federation of State, County and Municipal Employees Council 31 to block contract terms imposed by Gov. Bruce Rauner.
It isn't just because LeChien lacks jurisdiction in this particular matter. It's because we believe he lacks jurisdiction in any matter.
LeChien should not be in a position to grant restraining orders for anyone. He should not be presiding in a courtroom and issuing orders and judgments of any kind. He should no longer be a judge. If he hadn't gamed the system for his own advantage, he wouldn't be.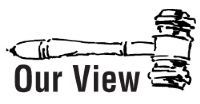 The only reason LeChien can still call himself a judge is because he edged out Republican Laninya Cason by a margin of 50.96 percent to 49.04 percent in last month's election.
If he'd run for retention, as the state constitution clearly prescribes for a sitting judge, LeChien would have fallen short of the 60 percent of votes needed to retain his position. Instead, along with fellow circuit court judges John Baricevic and Robert Haida, LeChien evaded the higher standard set for incumbents by resigning his judgeship and pretending to be a first-time candidate electable by a simple majority.
Even so, it was only by the thinnest of margins that he was able to reclaim the seat he'd ostensibly vacated.
Even if he had run for retention as the constitution stipulates and somehow managed to secure 60 percent of the vote, he would still lack jurisdiction in this particular case.
Ted Dabrowski of the Illinois Policy Institute argues that the union should have first appealed the labor board's decision with a state appellate court. "Instead of following legal requirements, AFSCME chose to run to Judge Robert LeChien in St. Clair County Circuit Court," Dabrowski comments. "The reason: LeChien has a history of rubber-stamping the union's legal requests."