Quizzes and questionnaires. Facebook is full of them. Can you put several shades of the same color in order from lightest to darkest? Which Star Wars character are you? How well do you know Beach Boys lyrics?
The comments beneath them are often more entertaining – and challenging – than the quizzes themselves.
For instance, if the question is how many U.S. states you've visited, someone is bound to ask what is meant by "visited."
"If you've just driven through the state, does that count?" "What if you got off the interstate to get gas, is that a 'visit'?" "What if you never got on the interstate and drove through on a blue highway?"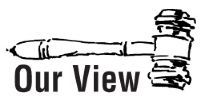 Purists and free thinkers are likely to disagree as to what constitutes a visit.
What state you live in would be a much easier question to answer, because you can't live in more than one state at a time, even if you do have more than one home or you fly south every year for the winter.
Nor can your business be headquartered in more than one state, no matter how many states you do business in. Even if your business is incorporated elsewhere, your headquarters is still in one state only.
Try telling that to the attorneys at Maune Raichle, who filed suit in Madison County Circuit Court, on behalf of plaintiffs living in Florida, against the Ford Motor Co., which is headquartered in Detroit, Mich.
Try telling it to Madison County Associate Judge Stephen Stobbs, who late last year denied Ford's motion to dismiss for lack of jurisdiction.
Ford's appeal of that decision has a good chance of winning, thanks to the recent election of two new judges opposed by the plaintiffs' bar.
Local asbestos firms, including Maune Raichle, spent more than $1 million in a last-minute bid to keep the Republican candidates off the bench.
Having failed, they are now living in a state of despair.