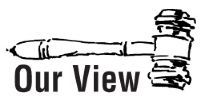 'The ten-dollar founding father without a father
Got a lot farther by working a lot harder
By being a lot smarter, by being a self-starter
By fourteen, they placed him in charge of a trading charter"
This verse from the opening number in Hamilton: An American Musical paints a picture of how a man born in humble circumstances would rise to become one of the most important figures in the popular revolution that led to the establishment of our country, a persuasive advocate for the carefully crafted Constitution that enshrined and protected the principles enunciated in our Declaration of Independence, and the first secretary of the U.S. Treasury – all by dint of hard work and determination.
Debuting in New York in 2015, Hamilton was an immediate smash hit and was named Best Musical in 2016.
Then there's Hamilton: An East St. Louis Farce. It's a totally different show, and the reviews are not rave.
It's all about Oliver Hamilton, not Alexander, and it's the story of someone taking advantage of a position of public trust – that he probably didn't deserve in the first place –to enrich himself at the expense of the community he ostensibly represents.
There are no songs in this show and it's not the least bit funny, because it's not being acted out on stage but in real life, with real-life consequences for the long-abused residents of East St. Louis.
According to charges filed by interim U.S. Attorney Donald Boyce last week, East St. Louis Township Supervisor Oliver Hamilton apparently spent more than $40,000 from the township treasury for a Las Vegas party and other personal purposes while racking up $230,000 in credit card expenses in more than three years.
Forty thousand dollars of public funds for a private party! That's a whole lot of Hamiltons: four thousand, to be exact.
And that was just one of his many dubious expenses at our expense.
This Hamilton is not a hit. It needs to be shut down and the star given a new role: in a prison drama in prison garb.