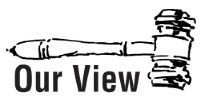 Not many Americans today can remember when Franklin Delano Roosevelt was president, because that was more than 70 years ago and most of us had not yet made our debuts into the world.
Not many Metro Easters, if any, can remember when there was a Republican majority on the Madison County Board, because the last time was before FDR.
But there's a Republican majority on the board now – or will be, when newly elected members take their seats, along with Republican Chairman-elect Kurt Prenzler, who narrowly defeated long-serving Democrat Alan Dunstan.
We've never seen him in a Superman suit, but Prenzler does resemble the mild-mannered, bespectacled reporter Clark Kent, and he does have a history of fighting for truth, justice, and the American way.
Prenzler ran unsuccessfully against Madison County Treasurer Fred Bathon in 2006, in the process publicizing the details of Bathon's corruption, which led to a federal investigation and Bathon's imprisonment for rigging delinquent tax sales.
Prenzler subsequently ran against Bathon's successor and won.
As county treasurer, Prenzler automated tax sales, cut his budget by 30 percent, saved approximately $2 million, and tripled the county's investments, increasing them from $30 million to $90 million.
In this past election, Prenzler ran against Dunstan, promising to cut spending and taxes, expose cover-ups, and transform the board into a more deliberative body, as opposed to a rubber stamp. Throughout the campaign, he questioned the propriety of the county purchasing director serving as treasurer of Dunstan's campaign committee.
Prenzler attributes his latest win to running a "very positive" campaign and connecting with voters on a popular property tax cut referendum.
The result is one we'll want to remember and improve on in the years to come.