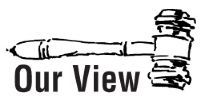 Last year, in his ongoing effort to derail the tort reform movement in our state legislature, asbestos attorney John D. Cooney, president of the Illinois Trial Lawyers Association, observed that asbestos cases represent "a fraction of total cases filed in Madison County."
So they do, but it happens to be a very large fraction. Three quarters! That's three out of four, or 75 percent.
One quarter would seem to be a notable figure for anyone concerned about the proper functioning of our state judicial system. Two quarters, half, would seem to warrant honest discussion and redress. Three quarters signifies a serious problem, but not to asbestos attorneys. For them – and the politicians in their pockets – it's good news.
How large would the "fraction" have to be before Cooney would concede that something needs to be done? Seven eighths? Eight ninths? Nine tenths?
Asbestos cases represent a fraction of the cases filed in Utah courts, too – a fraction far smaller than Madison County's. Nevertheless, the Utah state legislature recently passed a law to curb asbestos fraud, and their governor signed it.
"Utah's new law aimed at stopping plaintiffs' lawyer 'double dipping' — seeking money from multiple asbestos trusts in addition to bringing a lawsuit, all on behalf of the same individual — is a significant step toward fighting asbestos lawsuit abuse," commented Lisa A. Rickard, president of the U.S. Chamber Institute for Legal Reform.
"This law will ensure that companies and bankruptcy trusts both pay their fair share of recoveries to claimants. It will also mean that Utah companies won't be the targets of wrongful lawsuits."
Noting that numerous other states with "fractions" far smaller than ours have passed similar laws, Rickard recommends that Illinois follow suit. That's 100-percent good advice.
(The Record is owned by the U.S. Chamber Institute for Legal Reform).