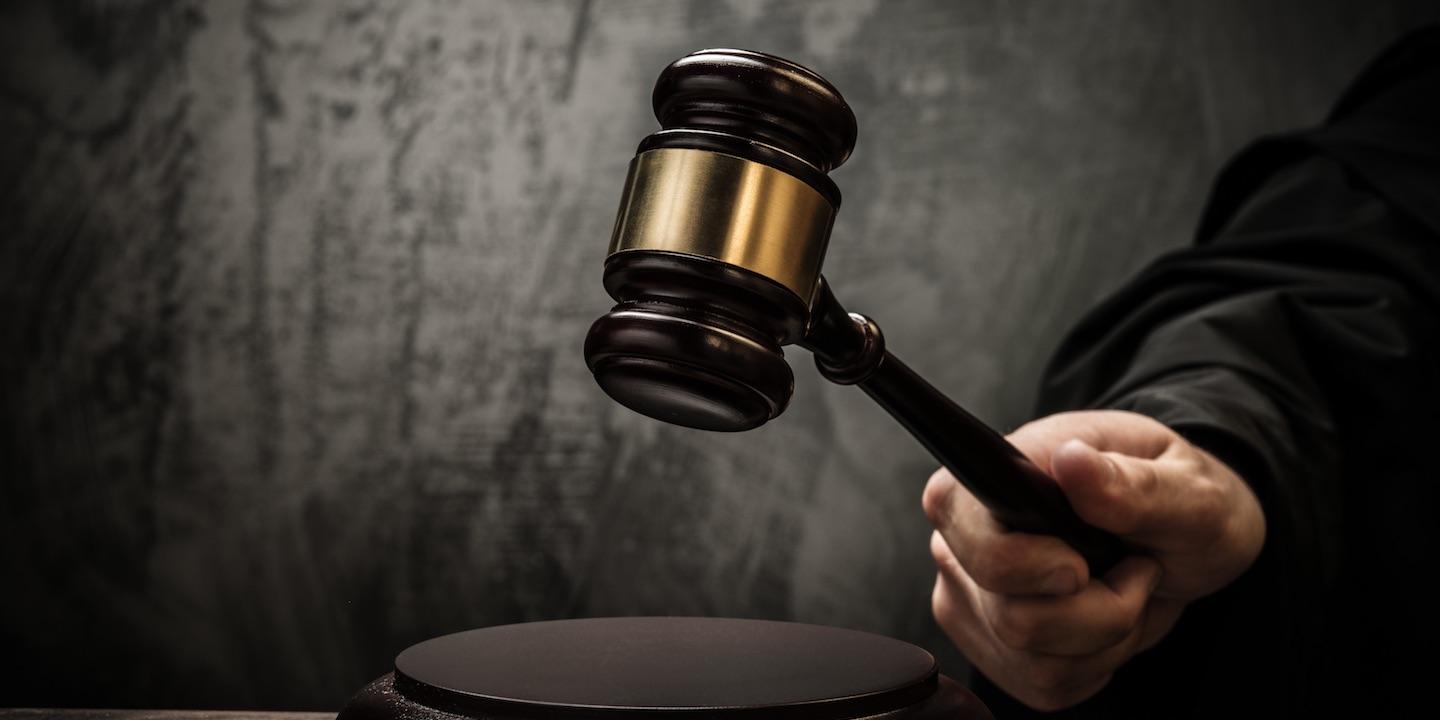 A suit alleging a UPS delivery driver injured his back after being attacked by a dog in 2012 is at trial in Madison County Circuit Judge William Mudge's courtroom.
The trial began Monday.
Plaintiff Steven Campbell is represented by Charles Armbruster and Roy Dripps of Armbruster Dripps Winterscheidt & Blotevogel in Maryville. Armbruster questioned witnesses on Tuesday.

Armbruster
Defendant Kevin Autenrieb is represented by Jason Kleindorfer and Michael Murphy of Freeark Harvey and Mendillo in Belleville. Murphy cross-examined the witnesses.
Campbell filed suit in November 2013 against Autenrieb. He claims he injured his back when he attempted to prevent getting bit by a dog while delivering a package at the defendant's home, located at 3781 Raymond Road in Edwardsville.
Campbell testified on Tuesday that he has been working with UPS since 1988 and has been a delivery driver for almost 23 years.
He said he delivered packages at the Autenriebs' home on a weekly basis and knew to place the packages in the garage.
He claims that in July 2012, he was delivering a package at the residence and did not see or hear a dog outside the house that day.
He testified he had been trained to honk his horn and have the homeowner come get the package if an aggressive dog is present, but he got out of his truck to leave the package in the garage that day.
"If in doubt, don't get out," he said.
However, Campbell said that when he went to set the package down, he heard some shuffling and turned toward it.
He said he saw a dog "bolting" right at him with its mouth open. He said Mary Autenrieb, Kevin Autenriebs wife, heard the commotion and came outside and yelled at the dog.
Mary Autenrieb apologized and told him the dog is aggressive and is currently in training, he testified.
Campbell said he made it a little ways down the road before his back locked up. He called for assistance and was taken to Midwest Occupational Medicine.
"Physically, I was in, without a doubt, without question, the most pain I'd ever experienced," he said.
He was offered a shot and was prescribed medicine.
During his follow-up appointment, he said he was certainly feeling better, but said he was still in pain. He said his prior testimony that he was "pain-free" has to be "inaccurate."
Shortly after the incident, he returned to work and was provided with a helper to assist with unloading packages.
When asked why he returned to work, he said he "soldiered up," and did what he was told.
"I work as instructed," he said. "I do what I'm told to do. I soldiered up and gave it my best shot."
However, he was working a couple weeks before he injured his back again while trying to deliver a deer stand.
During cross-examinations, Murphy pointed out that Campbell previously testified that he had not returned to work since the incident. Murphy said his statement of not returning to work was untruthful.
Campbell, however, said it was an inaccuracy with timelines and he was often confused from his pain medications.
Campbell eventually saw Dr. David Kennedy, a neurosurgeon practicing with Missouri Baptist Medical Center. Kennedy testified in a video deposition that Campbell never fully recovered from the dog attack, so the deer stand incident worsened or aggravated his previous injury.
Kennedy, who obtained his medical degree in 1979 from St. Louis University, said Campbell had lumbar strain to the muscles in his back. He said Campbell also had some bulging in some discs and an annular fissure.
Kennedy recommended injections and physical therapy, which generally helps a patient to heal in two or three months.
Campbell said he has followed all directions and attended all approved therapy sessions, but still continues to feel pain.
During testimony on Tuesday, Mary Autenrieb, testified that she was at home and was responsible for the dog, named Callie, at the time of the incident.
She said Callie is a 26-pound border collie-terrier mix and was rescued by the family in May 2011.
She agreed that Callie has a lot of energy and was in obedience training at the time of the incident.
Mary Autenrieb compared Callie to a circus dog, saying she jumps around and loves to play. She said Callie's nature could sound aggressive to some who don't know her.
Callie had a shock collar with a remote, but was not trained with their electric fence.
Mary Autenrieb testified that on the day of the alleged attack, she came out the door and saw Callie outside the garage door. She also saw Campbell standing in an arched position with a hand on his back as though he had been hurt. Callie was still barking.
She said she asked Campbell if he was ok, and he responded, "I thought she was going to get me this time."
She said she could see that he had twisted his back. She offered him water and ibuprofen, but he declined.
She said she then left her house to run errands and saw Campbell's truck on the side of the road.
During cross-examinations, she said Kevin Autenrieb was not home at the time of the incident.
Murphy chose to withhold his remaining questions for his portion of witness testimony.
Kevin Autenrieb testified that he would not classify Callie as aggressive but said she likes to bark.
He added that he's never seen her bite at any tires.
He said Callie is his daughter's dog and would have arrived at the house around 9 a.m., after he had already left for the day. His daughter was training her dog in obedience class to address the excessive barking, which he called a nuisance.
He also explained that the family does have an invisible fence for their dog, Mason, to prevent him from running to a nearby park to play.
Armbruster also called to the stand several UPS and FedEx delivery drivers who had experience delivering packages to the Autenrieb's residence.
Each driver testified that they had witnessed Callie's alleged aggressive nature.
A driver testified that Callie was territorial and came out barking, growling and biting the tires. He said he honked his horn and Mary Autenrieb came out to get the package from him. His experience occurred after Campbell's alleged attack.
Another driver said Callie chased him back into his FedEx truck. He said Kevin Autenrieb came outside to retrieve the package.
A third driver said he was helping Campbell deliver packages and was instructed by Campbell not to get out of the truck when Callie came running toward the vehicle.
He said Callie was "circling the van, biting the tires, barking like a little banshee. Kind of going a little nutso."
Madison County Circuit Court case number 13-L-1904