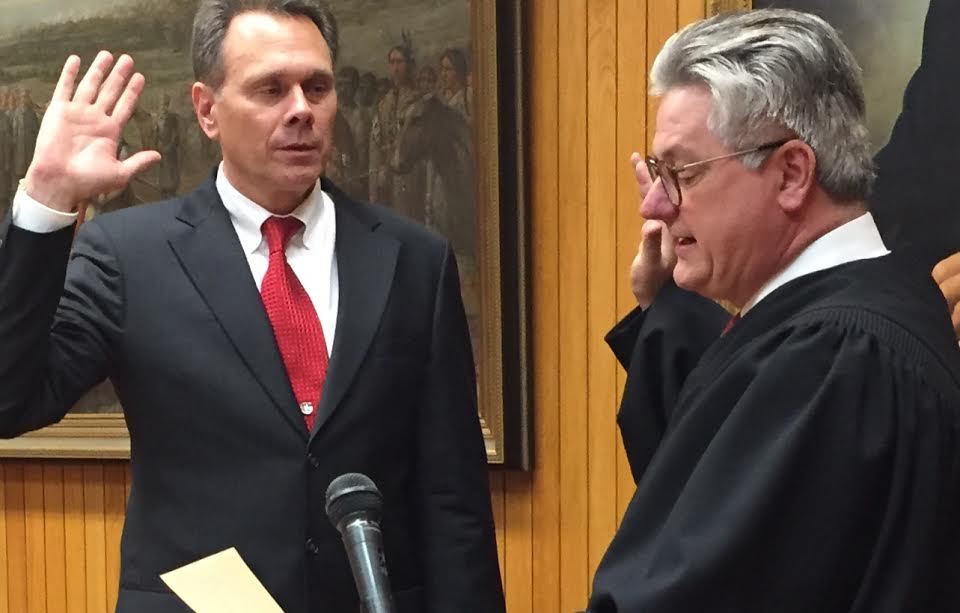 Ronald Duebbert was sworn in as circuit judge of the Twentieth Judicial Circuit on Monday afternoon by fellow circuit judge Stephen McGlynn.
The new judge said he considered it an honor to be elected by the people "in a real, contested election."
Duebbert, Republican, acknowledged the deep divide between himself and opponent John Baricevic, Democrat, the former chief judge who lost by 952 votes in the five counties of the circuit - St. Clair, Monroe, Perry, Randolph and Washington.
"He and I disagreed on significant issues," Duebbert said.
"John Baricevic earned his retirement. I wish him well. So should you."
He said that during the campaign he learned "people want the unvarnished truth," particularly when it came to the issue of drug testing of judges.
"I mean thousands of them," he said of people wanting to talk about the issue that had overshadowed the courthouse since 2013.
He said legislators should be "on notice" that people want action on the issue. Currently, the Illinois Supreme Court cannot mandate drug testing for judges unless new law is enacted.
Duebbert said his "brutally honest" stance on drug testing left him "castigated."
"Witness the folks who are not here," he said.
Duebbert and McGlynn, also a Republican, were the only two judges present at the swearing-in ceremony in a St. Clair County courthouse that seats eight elected circuit judges and 13 associate judges.
Ultimately, "more folks agreed with me than disagreed," he said.
Duebbert is looking forward to his assignment presiding over the first appearance court in Room 108 - perhaps the busiest docket in the courthouse. Persons charged with traffic offenses, misdemeanors and those appearing on bench warrants will go before Duebbert.
He said he will value the experience because it is often the first impression a person has with a judge.
In reflecting on his campaign, he acknowledged that fatigue had set in after the "first 20 parades," but indicated he got inspiration from a core group of supporters.
He said he learned a lot from the people, particularly at small events.
"That's how you get to know people and what they want," he said.
Duebbert's election was due to heavy vote totals outside St. Clair County.
In acknowledging supporters by name, he began with Lois Heisner of Pinckneyville, where in Perry County his margin of victory was 10.8 percent - the lowest of the outer counties. In Washington County he won by 37.58 percent; in Monroe County by 28 percent and in Randolph County by 15 percent.
In St. Clair County, Baricevic won by an 8 point margin, or approximately 11,000 votes including East St. Louis.
Before swearing him in, McGlynn told an audience of Duebbert supporters that the new judge is "a very gifted attorney; very smart."
As an appointed guardian ad litem for children whose parents are involved in the legal system, McGlynn said that children "loved" Duebbert. "Kids loved to talk to him when they won't talk to others."
He said that it was important if "kids are going to tell that mom is still doing heroin or not."
McGlynn said that to be a good judge you need "humility and humanity and to treat people with dignity and respect."