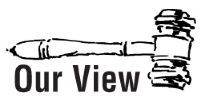 It's nice to have a family member in the business.
What business? Any business.
If a relative runs a restaurant, you could get a free or discounted meal once in awhile. If your kin's a carpenter or other kind of tradesman, you might be able to finagle gratis or reduced-rate repair services. If your dad or daughter's a doctor or your lad or lass a lawyer, complimentary or less costly consultations may be available to you.
What if your relative is the state attorney general? What might that get you? Help harassing or shutting down your political opponents, perhaps?
Is this what Lisa Madigan is doing to protect her father's supermajority in the Illinois General Assembly? We hope not, but there are troubling signs of such an effort.
Pat Hughes of the Illinois Opportunity Project (IOP), a public policy group that conducted an early voting program in the run-up to this week's election, accuses the state attorney general's office of "a direct attempt to harass, and to suppress votes. I think this is political. They're trying to suppress votes they don't think will necessarily be helpful to their cause," he claims.
"The purpose of our program is to get people to vote, plain and simple," Hughes explains.
Nevertheless, the group has received threatening phone calls and demanding letters from the AG's office.
"IOP has not been notified of any wrongdoing, charges, or pending investigation by any official, including the Illinois Attorney General, and believes these actions by the Illinois Attorney General's Office and other public officials is politically motivated," says an IOP release.
"[Michael] Madigan has been the most powerful politician in our state for decades," Hughes emphasizes. "We're in the middle of a number of contested elections throughout the state that could mean holding onto or losing that supermajority."
Lisa Madigan should not to do anything that could affect the outcome of an election – or even give the appearance of doing so.