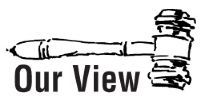 Democratic Madison County Board Chairman Alan Dunstan has declared his adamant opposition even to the appearance of conflicts of interest in public officials – other than himself.
Five years ago, Dunstan expressed concern about Circuit Judge Barbara Crowder's acceptance of $30,000 in campaign donations from asbestos law firms and her prior assignment to those donors of the vast majority of trial slots on her docket .
"Importantly, the acceptance of certain campaign contributions creates a perception of conflict and negatively impacts the image of Madison County, the courts, and Judge Crowder," he commented at the time.
"As Madison County Board Chairman, I appreciate the quick action of Chief Judge Ann Callis and the other judges in the 3rd Judicial Circuit to remove Judge Crowder from her former docket," he said.
That was then and this is now.
Now running for reelection, Dunstan has accepted $90,000 in campaign contributions from asbestos firms – three times Crowder's haul – and can't understand how anyone could find that objectionable, or consider his previous remarks about Crowder hypocritical in retrospect.
But this is not Dunstan's only apparent lapse in ethical judgment.
For months now, his Republican opponent, Kurt Prenzler, has been trying to solicit an opinion from the county ethics adviser as to the propriety of the county purchasing director serving as treasurer of Dunstan's campaign committee.
"The purchasing director has the discretion to award millions of dollars per year in county contracts to vendors," Prenzler notes. "Is it ethical for the purchasing director of the county, who talks with vendors who want to do business with the county, to also serve as the treasurer for the county board chairman's political committee? Is there a conflict of interest?"
The answer is so obvious that two advisers resigned rather than respond.
Five years ago, Dunstan stressed how important it is for citizens to know "their judges and elected officials are ethical and totally above board in all their actions." Apparently he knows himself pretty good in the world of campaign cash and conflicts of interest.