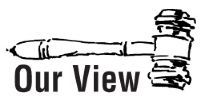 When a vain and foolish emperor is persuaded to appear before his subjects in a new suit of "invisible" clothes, no one dares to point out that he isn't wearing anything – except a precocious child.
Something similar happened with our state auditor general.
It should have been plain for the legislature to see that Frank Mautino was utterly unfit to occupy the position of public trust to which he was elevated, but no one had the courage to say so – except one intrepid fellow.
David Cooke of Streator took it upon himself to expose Mautino's potential misappropriation of funds during his tenure as a state representative and demand an explanation.
It was a thankless task and a lonely and prohibitively expensive one at first, as the Illinois State Board of Elections refused to participate in the effort. But now the Liberty Justice Center has come to Cooke's assistance, providing legal representation in his complaint against Mautino.
"It's important that somebody pursues this case because Illinoisans should know if their auditor general – the state official charged with making sure the state's money is spent legally – has been spending his own campaign funds illegally," says Liberty Justice Center attorney Jacob Huebert.
"Illinois law restricts how candidates spend their campaign funds," Huebert explains. "So far, Frank Mautino hasn't been able to show that the hundreds of thousands of dollars he spent at Happy's Super Service Station and Spring Valley City Bank were for legitimate campaign expenses – and it's hard to see how they could have been.
"The State Board of Elections has ordered Mautino to provide records explaining what this money paid for, and he has refused to comply. We plan to conduct a thorough investigation to determine whether and how Frank Mautino has violated the law."
In a state as corrupt as Illinois, it may seem like there's nothing one person can do to make a difference, but sometimes all it takes is the courage to shout out the obvious.