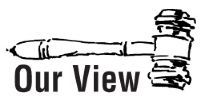 Some people just can't let go. Madison County Associate Judge Donald Flack is one of them.
For a year and a half after he assumed his judgeship, Flack maintained an economic interest in a civil suit from which he'd officially withdrawn.
Flack filed suit in U.S. District Court in East St. Louis against Continental Technologies on Dec. 2, 2011 while still in private practice, seeking damages for a client named McGee who claimed to have been injured in a fall from a faulty hunter's ladder made by the company.
On May 22, 2012, three days before he would take the bench as associate judge, Flack filed notice of withdrawal as attorney for McGee. (Bob Perica of Wood River had entered an appearance as lead counsel, substituting for Flack, on May 3rd.)
Judge Flack's first statement of economic interests, received by the Illinois Supreme Court on July 5, 2012, included "McGee v. tree stand mfr" among pending cases in which Flack or his immediate family had an interest.
His second statement, received by the State Supreme Court on April 29, 2013, also listed the McGee case.
On Dec. 19, 2013, McGee and Continental Technologies advised the court that they had settled, and on March 5, 2014, the court clerk entered judgment.
Flack's next statement of economic interests, received by the Supreme Court on May 5, 2014, excluded McGee from a list of pending cases.
At least 30 asbestos cases he initiated remain active in Madison County, including three he filed after the announcement of his appointment as associate judge. He also has litigation relationships with two national asbestos firms that he initiated after assuming his judgeship.
His statements have disclosed litigation interests beyond asbestos, at least two of which remain active. In those cases, he retains financial stakes.
While Judge Flack cannot rewrite his biography, he can help restore faith in his judgment by liquidating his portfolio, if only for the sake of appearances.