We wonder if Illinois House Speaker Mike Madigan is following the career of New York State Assembly Speaker Sheldon Silver.
That is, we wonder if he was following Silver's career, because there's nothing to follow anymore. His career is over. Silver is no longer assembly speaker. He was arrested and convicted on corruption charges and is scheduled to begin a 12-year prison sentence this month.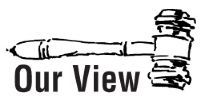 He was also ordered to a pay a fine of $1.75 million and forfeit $5.3 million in ill-gotten gains.
That's quite a downfall for someone who reigned as assembly speaker for 20 years and was one of the most powerful men in New York at the time of his arrest. A well-deserved downfall, of course, as he was also one of the most corrupt men in the state, using his position of public trust to enrich himself with bribes and kickbacks.
On one occasion, Silver got a $700,000 kickback from a law firm to which he steered developers wanting to challenge New York City tax assessments.
The reason we wonder if Madigan had followed Silver's career is that the two share so much in common. Like Silver, Madigan is a long-serving state house speaker, clocking more than 30 years so far and showing no signs of leaving vertically or voluntarily.
Like Silver, Madigan is one of the powerful men in his state who works as a lawyer privately.
Like Silver again, Madigan has perfected the black art of using his position in the legislature to help establish barriers and penalties for commerce that possibly can be circumvented by recourse to his well-compensated intervention. It's called a pinstriped protection game.
Madigan and his cohorts in the legislature ensure that Chicago-area residents are overcharged on their property taxes and then, as overpaid attorneys in private practice, intervene to see that those over-assessments are corrected.
The one major difference between Silver and Madigan is that Madigan has never been the target of an investigation – not yet, anyway.