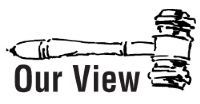 With 25,000-plus performances since its premiere in London in 1952 and still going strong, Agatha Christie's murder mystery The Mousetrap is – and is likely to remain – the longest-running play of all time.
Stephen Tillery's legal drama The Masstort has not fared as well, but it did have a good run. An autobiographical story of one attorney's obsessive quest to enrich himself by suing a lawfully operating business on behalf of previously loyal customers who'd purchased its products voluntarily over a period of years, the legal drama premiered at the Madison County Courthouse in 2000 and ran more or less continuously, with adaptations, for 17 years.
Tillery filed suit against Philip Morris in 2000, charging the cigarette manufacturer with misleading consumers about the health benefits of light and low-tar cigarettes. In 2003, Circuit Judge Nicholas Byron awarded more than $10 billion to Tillery's clients, including nearly $2 billion in attorney's fees, but the State Supreme Court overturned the verdict in 2005.
Efforts to revive the case foundered until 2014, when a state appeals court reinstated the original verdict. Last November, the Illinois Supreme Court overturned that ruling, and this week the U.S. Supreme Court rejected an appeal of that decision.
There's nothing else that Stephen Tillery can do now, nowhere else for him to go.
[CURTAIN]
Tillery's drama lasted nearly two decades, but it was ultimately unsuccessful. It had some interesting plot twists along the way, but the story itself was trite, and the characters playing the trial attorney and the plaintiffs were unappealing and unsympathetic. Despite its long run, Tillery lost money on it. It was a flop.
Now it's time to strike the set and start looking for another project: a new story, a new cast, a new venue.
Tales of big bad businessmen and the underdog consumers who fight back against them have gotten old. Tillery might want to try something upbeat for a change.