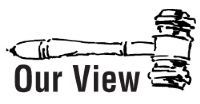 Aren't our state legislators required to pass a balanced budget every year? Yes, they are. Do they? No, they don't.
"The wording in the Illinois Constitution seems clear," writes Hilary Gowins in a recent post at illinoispolicy.org. "But for more than a decade, Illinois lawmakers have used borrowing and budget gimmicks to pass unbalanced budgets."
Just last week, Democratic legislators – including Metro East money mismanagers Dan Beiser, Jerry Costello, Jay Hoffman and Eddie Lee Jackson – passed a budget that spends $7 billion more than the state is projected to take in.
"How can politicians continue to propose unbalanced budgets?" Gowins asks. "Simple: Illinois' constitutional requirement for a balanced budget allows lawmakers to push off any budget shortfall into the future."
Buy now, pay later? Something like that – only the due date keeps getting pushed back, and the debt keeps growing.
Gowins cites a couple of measures that have been proposed to address this profligacy.
"House Joint Resolution Constitutional Amendment 47 would strengthen the Illinois Constitution's balanced-budget requirement, giving teeth to the current balanced-budget requirement by requiring that spending can't exceed revenue and prohibiting the use of budget gimmicks," she notes.
"The governor has proposed passing the Unbalanced Budget Response Act, which would temporarily allow the governor to shift funds and reduce spending to balance the state's budget."
Whatever the merits of these proposals, neither addresses the real problem.
"None of this would be necessary," Gowins affirms, "if Illinois politicians would do their job and spend within the state's means."
That won't happen as long as we refuse to identify the real problem, and keep accepting band-aid solutions that merely delay the day of reckoning, and pretend that we don't know what the obvious solution is.
If we want a balanced budget, we have to elect honest politicians. To do that, we have to be honest, thoughtful voters.