The fallout from the 2013 arrest and conviction of St. Clair County Judge Michael Cook on charges of heroin possession continues.
Last week, Fifth District appellate judges concluded that Cook in one case accepted a guilty plea from a defendant without ensuring that he fully understood the likely consequences of his plea.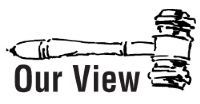 The court ordered a new hearing for Floyd Robinson, currently serving a 10-year sentence for shoplifting from Wal-Mart in 2012 and escaping from the Cahokia police station after his arrest.
Robinson was represented, or misrepresented, by a series of public defenders who provided conflicting advice and negotiated substantially different agreements, the last of which appears to have been negotiated without Robinson's informed consent.
Justice Richard Goldenhersh concluded that Cook had failed to ascertain if promises had been made to Robinson in exchange for his plea.
"If the trial court asked defendant whether any promises had been made and defendant denied any such promises, then we might be inclined to rule differently," he wrote.
Goldenhersh believed that an exchange between Cook and Robinson at a plea hearing indicated miscommunication between Robinson and his last public defenders, Andrew Liefer.
"From this exchange we can only surmise that attorney Liefer and defendant never discussed the fact that issues defendant attempted to raise in his numerous post plea pro se motions were being waived, and they were only proceeding on the issues raised in Liefer's motion," he wrote.
"While we would not expect Liefer's motion to necessarily recite all allegations defendant made in his pro se motions, we would expect the motion to contain at least one of defendant's contentions," Goldenhersh affirmed.
Fifth District appellate judges reversed Cook three times in the four months after his sentencing – twice for failing to give proper consideration to motions from prisoners claiming incompetent counsel. Circuit Judge Robert Haida has overturned two murder convictions obtained in Cook's courtroom.
We are well rid of Judge Cook, but his legacy lives on.