Has the Greek philosopher Diogenes been reincarnated as Kurt Prenzler?
It's impossible to confirm, since the contemporaries of Diogenes have been dead for more than two millennia and cannot be summoned to scrutinize Prenzler and draw comparisons. Still, the similarities between the two men are striking.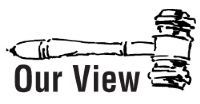 Diogenes went about Athens in the 300 BCs carrying a lantern in broad daylight, ostensibly searching for an honest man. Alas, he never found one – Athens being, evidently, the Metro East of ancient Greece.
As Madison County is the Athens of Illinois. Here, Prenzler also labors in vain, centuries later, to find an honest man.
Prenzler, the county treasurer, is the guy who exposed the wrongdoing of former Madison County Treasurer Fred Bathon, subsequently sentenced to federal prison for rigging delinquent tax sales.
Now running for county board chairman against incumbent Alan Dunstan, Prenzler is struggling to get an answer to an ethical question from the county ethics advisor. It's a reasonable question, one an honest man could answer if he had the courage to do so, but it's a question that two men who recently occupied the position of county ethics advisor preferred to dodge by resigning rather than responding.
Prenzler wants to know if the county purchasing director who also serves as the treasurer for Dunstan' political committee has a conflict of interest.
"The purchasing director has the discretion to award millions of dollars per year in county contracts to vendors," Prenzler notes. "Is it ethical for the purchasing director of the county, who talks with vendors who want to do business with the county, to also serve as the treasurer for the county board chairman's political committee? Is there a conflict of interest?"
Is it even possible in these parts "to find an ethics adviser who is willing to answer that question," Prenzler wonders. "Is anyone willing to be the ethics advisor for Madison County?"
Let's light our daylight lamps and start searching.