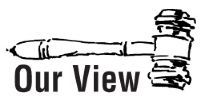 Ah, the life of a legislator! You get a nice annual salary for a part-time job, more than a hundred dollars extra each day for living expenses while the General Assembly is in session, and expenses covered for travel to and from Springfield.
Plus, if you've moved up from a position as a county official, as so many legislators have, you can get $100,000 or more in retirement benefits every year, even though it's obvious that you're not retired.
As if that weren't enough, you can get free meals every day, too, if you want them and can find somebody to pick up the tab – and that's not hard, what with loads of lobbyists lurking about, waving their wallets at the waiters and grabbing every check in sight.
Not that they expect anything in return. Oh no, they're just being friendly. They're just making conversation, while you're eating freely, confiding to you all the things they'd like you to do for them and the interests they represent – but only if you're so inclined and think it's for the public good. No strings attached. After all, it's only a meal.
There are lots of legislators who fit this description, and Bill Haine is one of them.
Make that No-Bill Haine. Last year, the state senator from Alton enjoyed at least 43 free meals, at an average cost of $40 each, all paid for by friendly lobbyists looking for nothing in return. Over the past decade, Haine has enjoyed more than $25,000 worth of free grub courtesy of various vested interests, particularly insurance interests.
Haine is the chairman of the Senate Insurance Committee. He makes $67,836 as a state senator, $111 more per diem while the legislature is convened, and 39 cents per mile for travel reimbursement. As a former Madison County state's attorney, he also rakes in $148,042 a year in state pension payments.
He can afford to buy his own lunch. Seems like he doesn't want to.