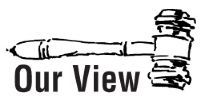 You see them out in the country, if you live out in the country. If you don't live out there or pass through infrequently, you see them in movies or on TV shows about country people, movies like the Ma and Pa Kettle series from the 1950s and shows like Green Acres and Duck Dynasty.
We're talking about the lazy old hounds that slump on the front porches of their owners' shacks day and night, never moving a muscle except to scratch a flea or gnaw on an old soup bone.
They say it's a dog's life, but for some dogs – the lazy ones, at least – life is pretty good.
In French, the dog is le chien.
If you want to see a lazy dog in these parts, look no further than the St. Clair County Court House, because that's where you'll find Circuit Judge Robert "The Dog" LeChien.
He won't be scratching fleas and gnawing bones on the front steps of the court house, more than likely, but he might as well be, for all the work he does.
LeChien is one of three sly judges from St. Clair County who are seeking to avoid the higher retention standard state law sets for incumbents (60 percent) facing retention by resigning their judgeships and pretending to be first-time candidates electable by a simple majority.
The other two are John Baricevic and Robert Haida.
LeChien is running for six more years as a St. Clair County circuit judge, but "running"may not be the right word, since it connotes strenuous activity and that's not something he's engaged in lately. In fact, his workload has been light, to say the least.
Chief Judge Baricevic stopped assigning civil law actions to LeChien last March, after litigants moved for substitute judges 38 times in 102 days.
If the dog is still on the ballot in November, voters should exercise their right of substitution and vote for his opponent instead.