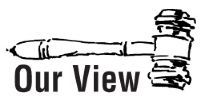 What's the longest game in baseball history? That depends.
The longest game in major league baseball history was the May 8, 1984 game between the Chicago White Sox and the Milwaukee Brewers. It took 25 innings and eight hours and six minutes for the Sox to beat the Brewers 7-6.
The longest minor league game began on April 18, 1981 and pitted the Pawtucket Red Sox against the Rochester Red Wings. After 33 innings and eight hours and 25 minutes, the Sox beat the Red Wings 3-2.
The longest exhibition game, a charitable event, occurs annually in Boston and goes on for 100 innings, lasting roughly 36 hours.
Then there's the game that lasted almost eight years – not the game itself, but the litigation game proceeding from it.
Gregory Gvillo was injured while playing first base in a softball tournament in Staunton in August 2007 when a batter hit a ground ball and crashed into him while trying to beat the throw to first.
A year later, Gvillo filed suit against the organizers of the event, accusing them of failing to follow the Amateur Softball Association's Rules of Softball and seeking more than $50,000 in damages.
Five years later, on the first day of trial in November 2013, Circuit Judge Andreas Matoesian granted a defense motion for summary judgment.
Gvillo appealed, the Fifth District Appellate Court found in his favor on March 11, 2015, and the case returned to circuit court.
Last week, nearly eight years after the case began, nearly nine years from the time of his injury, the jury ruled in favor of the defendants.
Gvillo spent eight years trying to wrangle money out of tournament organizers for an accident they were not responsible for, an accident every ball player knows is a potential hazard for first basemen.
In the end, the lawsuit accomplished absolutely nothing, other than harassing the defendants for nearly a decade and cluttering the courts in the process. Still, it was one for the record books.