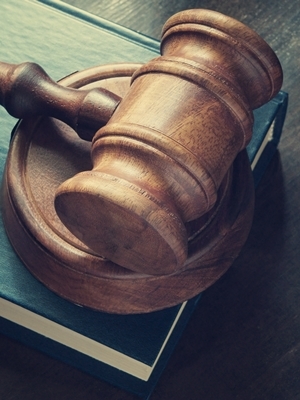 SPRINGFIELD - St. Clair County judges who chose to run for election rather than stand for retention did it as a favor to voters, their lawyer argued at a court hearing on Feb. 19.
"They are allowing the whole world to come and run against them," Michael Kasper of Chicago said on behalf of Judges John Baricevic, Robert LeChien and Robert Haida.
"They have provided voters more choice," he said.
Kasper said if they are not permitted to run there will be no competition in the general election.
If that happens, Sangamon County Associate Judge Esteban Sanchez asked, "Whose fault is that?"
"Who would suffer would be the voters," Kasper said.
"I don't see a scenario where this would be bad for voters."
Kasper said that Illinois case law strongly favors ballot access,
Sanchez said he would issue an order in the following week.
Baricevic, LeChien and Haida, all Democrats, announced last year that they would resign and run for election. Judicial elections allow party affiliation, but retention does not. Retention votes require 60 percent voter approval.
Belleville City Clerk Dallas Cook, Republican, objected to their plan at the State Board of Elections. Hearing examiner David Herman of Springfield recommended denial of the objection, finding that the Illinois constitution gives sitting judges an option between retention and election.
The election board split on the objection in January, with four Democrats voting to deny it and four Republicans voting to sustain it.
The lack of a majority vote left Herman's recommendation in place.
Cook sued for judicial review in Sangamon County and Chief Judge Ken Deihl assigned it to Sanchez. The docket shows no reason for assigning an associate judge, but the case would have put any circuit judge in a position to grant himself or herself an option between retention and election.
Cook's lawyer, Aaron Weishaar of St. Louis, told Sanchez that the Illinois constitution permits no such thing as an option. He' said the constitution set a 60 percent standard for retention to strengthen the judiciary.
"That's a good thing for our state," he said. "The 40 percent that say no to retention have real strength."
Kasper responded, saying that Cook "would deprive my clients of a constitutional right."
"There is nothing ambiguous or confusing about it," he said.
"Weishaar filled his briefs with politics. Whether this is good politics or bad politics, I don't know.
"60 percent voting on a question is different from 50 percent voting on a candidate."
Sanchez asked him why authors of the constitution didn't say a judge can do either.
Kasper said, "I believe they did."