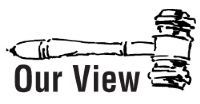 This Friday, Sangamon County Circuit Court Judge Esteban Sanchez will hold a hearing to consider the cynical arguments proffered by three colleagues from a neighboring county hoping to justify their attempt to circumvent state law and evade election standards established for retention.
St. Clair County Circuit Judges John Baricevic, Robert LeChien, and Robert Haida are seeking to avoid the higher judge's retention standard (60 percent) by resigning their judgeships and pretending to be first-time candidates electable by a simple majority.
Belleville City Clerk Dallas Cook challenged this obvious scam, but for some wrong-headed reason, hearing officer David Herman recommended that the State Board of Elections overrule Cook's objections.
What the board did was nothing. With a 4-4 partisan vote, it allowed the scofflaw jurists to continue their contrived candidacies by default.
Cook then petitioned for judicial review of that "decision."
"These three judges have decided to make the entire election process easier upon themselves," wrote attorney Aaron Weishaar in support of Cook's petition. "Presumably, they saw the writing on the wall and came to the conclusion that it will be much more difficult for them to stay in office if they need to have 60 percent of the electorate to vote in their favor.
"Why should they get to decide, instead of running on their own records, that it is appropriate/permissible to run in a partisan race (while sitting on the bench, with the benefits of incumbency), as if they were running for election the very first time?" Weishaar demanded.
If Judge Sanchez refuses to sanction the shenanigans, Baricevic, LeChien, and Haida will discover that they've been too clever for their own good.
Weishaar points out that it's too late for the judges to "change their minds" and file papers for retention, because they already have resigned. "The Illinois Supreme Court accepted their resignations and has certified the three vacancies," he noted.
If Sanchez rules against them, these judges pretending to be ex-judges will, in fact, be ex-judges. A perfect outcome, we strongly support.